Background of 10 t/h fish feed manufacturing plant
This 10t/h fish feed manufacturing plant project is a typical example of a livestock and poultry feed factory getting involved in aquatic feed processing.
Aquafeed is an indispensable part of aquaculture and can be said to be the most important link in the breeding process. As an industry with broad development prospects, how to seize the opportunity? Every month, RICHI receives inquiries from some livestock and poultry feed manufacturers, wanting to build a new aquatic feed line. Like this customer, he sees the prospect of aquatic feed processing. In the field of feed processing, in order to create greater profits, aquatic feed processing must have the best profit prospects at present.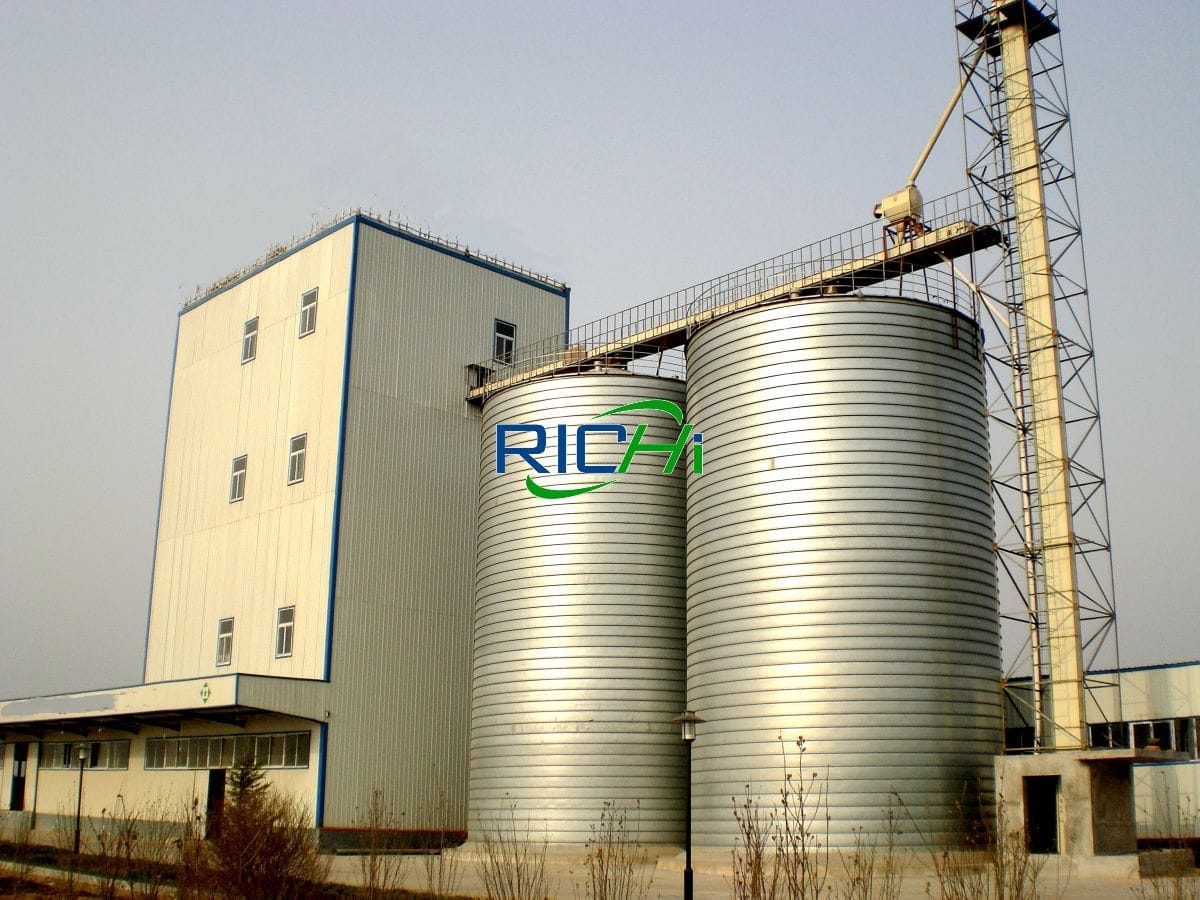 The feed factory in this project was established on September 28, 2010. The original project was originally planned to be constructed in three phases. The factory covers an area of about 50,000 m², with a building area of 40,578m² and a green area of 11,710m².
The crushing-expansion-mixing-granulation process is used to produce feed, with a designed annual output of 240,000 tons of feed, including 20,000 t/a of concentrated feed, 100,000 t/a of suckling pig feed, and 120,000 t/a of fattening feed. The factory area is mainly composed of production plants and other ancillary facilities.
In order to meet the needs of the market, the company adjusted its development strategy in a timely manner and planned to implement a reconstruction project——10t/h fish feed manufacturing plant.
The original pig feed production line (has been demolished) was rebuilt in the plant of the second phase of the project and converted into a fish feed production line, with soybean meal, corn, rapeseed meal , flour and fish meal are used as raw materials to produce fish feed 10 tons per hour through crushing-expansion-drying-cooling-spraying and other processes. It is estimated that the new investment will be $1.6 million. (Hot products: floating fish feed machine)

Before and after the reconstruction, the land area and construction area of the whole plant remain unchanged, and no new buildings are required. After implementing the reconstruction project of fish feed processing line, the whole plant has one pig feed production line and one fish feed pellet production line, with a designed annual production capacity of 120,000 t/a pig feed and 70,000 t/a fish feed (extruded fish feed and sinking fish pellet feed).
Project content and scale
This reconstruction 10t/h fish feed manufacturing plant project relies on the existing second-phase factory building (covering an area of 7130.84m² and building area of 14886.84m²), occupying the existing pig feed production area of the second phase, transformed into a fish feed production plant, part of the equipment that can be used for fish feed production in the dismantled production line was retained, and re-installed with the newly added production equipment.
The engineering of the whole plant after reconstruction:
| Engineering content | The whole factory after renovation |
| --- | --- |
| Raw material receiving and cleaning system | Material receiving and cleaning |
| Crushing system | Primary crushing, secondary crushing |
| Ingredient mixing system | Primary ingredient mixing system, secondary ingredient mixing |
| Raw material expansion system | Extrusion |
| Granulation system | Pelleting |
| Packaging system | Packaging |
| Finished product library | Finished product storage |
| Material storage | Material storage |
| Complex | Complex |
| Raw material storage cylinder | Ingredient storage |
| Oil tank | 2 soybean oil storage tanks with storage capacity of 30t |
| Boiler | Relying on the existing 8-ton gas-fired boiler (gas 48,000 m³/a) |
Main products and scale
After the rebuild, the client's main products include fish feed and a variety of pig feeds. The original plan of the project was 240,000 t/a. After the reconstruction, the whole 10t/h fish feed manufacturing plant has completed 190,000 t/a. The remaining part will be adjusted according to the actual market demand.

| Product name | Production capacity of the whole plant after reconstruction (10,000 t/a) |
| --- | --- |
| Fish feed | 7 |
| Suckling pig feed | 5 |
| Feed for fattening pigs | 6 |
| Concentrated Feed | 1 |
Consumption of main raw and auxiliary materials
| Name of raw material | Annual consumption of the whole plant after renovation (10,000 t/a) |
| --- | --- |
| Soybean meal | 6.2 |
| Corn | 7.45 |
| Rape meal | 1.4 |
| Flour | 1.4 |
| Fish meal | 1.85 |
| Additives (lysine, etc.) | 1 |
| Soybean oil | 0.3 |
| Annual gas consumption of the boiler (10,000 m³ /a) | 4.8 |
Equipment for 10 t/h fish feed manufacturing plant
Raw material receiving and cleaning system:
Scraper Conveyor*TGSSp25, Scraper Conveyor*TGSSp32, Bucket Elevator*TDTGk50/28, Cylinder Primary Cleaner*TCQY8OA, Permanent Magnetic Cylinder*TCXT25, Cone Powder Screen*SCQZ90X80X110A;
Primary crushing system:
4 Bins to be crushed, impeller feeder*TWLY20-250, impeller feeder*WLY20-100, screw conveyor*TLSGF32, bucket elevator*TDTGk50/28, pulverizer*SWFP66X100C, distributor*TPPX6-200 ;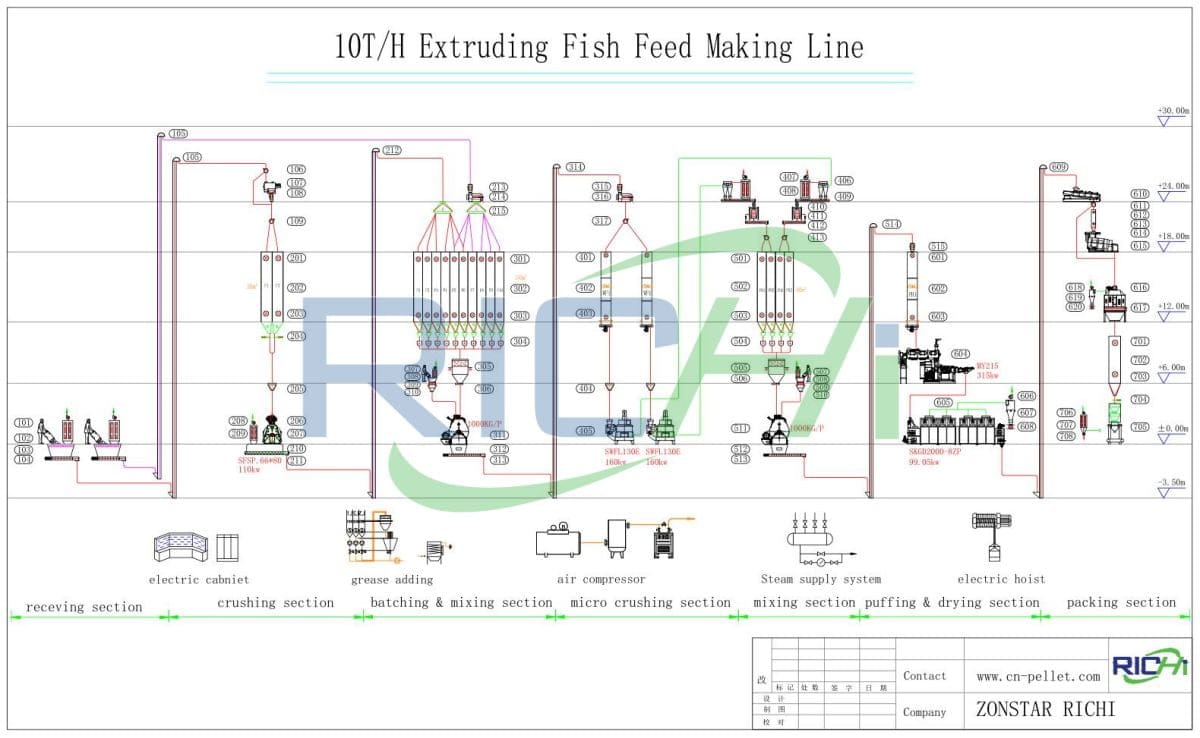 Primary ingredient mixing system:
22 Batching bins, 2 batching scales, crushing system air net, high-pressure fan*6-30-8C, 8 large storage units*TLSUw32, 9 small storage units*TLSUw25, 3 small storage units*TLSUw20 , 2 small bin machines *TLSUw16, double-shaft paddle type efficient mixing machine *SLHS4, scraper conveyor *TGSSp25, scraper conveyor *TGSSp32, bucket elevator *TDTGk50/28, permanent magnet cylinder *TCXT30;
Secondary crushing system:
6 Bins to be crushed, superfine pulverizer *SWFL170G, screw conveyor *TLSUs25, bucket elevator *TDTG36/28;
Secondary ingredient mixing system:
4 Batching bins, batching scale*2000 kg/batch, double-shaft paddle type high-efficiency mixer*SLHS4, scraper conveyor*TGSSp25, bucket elevator*TDTG50/28, permanent magnet cylinder*TCXT30;
Granulation system:
Conservator*STZL80, paddle modulator*MUTZ600JC, granulator*SZLH508, countercurrent granule cooler*SLNF22*22, roller granulator*MUSL24*165, bucket elevator*TDTG36/28, rotary classifier*SFJH130X3C , scraper conveyor *TGSSp20; (Hot products: sinking fish feed machine)

Expansion system:
Warehouse to be extruded, double-layer jacket modulator*MUTZ420, double-screw extrusion extruder*SJPS156X2H, dryer*SDZB3000-14, scraper conveyor*TGSp25, bucket elevator*TDTG50/32, rotary classifier* SFJH149X2C, vertical spraying machine * PTCL3000, countercurrent particle cooler * SLNF28X28B;
Finished product packaging system:
2 Finished product warehouses, vibrating screen*SFJZ125X1, sewing machine belt conveyor*PDSS003, rotary classifier*SFJH130X2C, belt feeding single bucket scale*PDC50, belt feeding double bucket scale*PS50, scraper conveyor*TGSP16, bucket Type hoist *TDTG36/28;
Other auxiliary systems:
Grease adding machine*SYTC100, air compressor, filter tank, air storage tank, oil tank (30t capacity), bag filter with cyclone, pulse dust collector, etc.
Process flow of 10 t/h fish feed manufacturing plant
The process design of the new fish feed pellet production line is as follows:
Raw material receiving stage
Raw materials are pre-cleared.
①Granular raw materials: Throw them from the feeding port to the crushing bin, and then go through the pulverizer for primary crushing, then enter the secondary pulverizer for secondary crushing, and transport the secondary pulverized raw materials to the puffing bin through the elevator.

Some impurities will be produced in the primary cleaning process of raw materials in the reconstruction project, including impurities such as small stones and rhizomes. About 84.6t/a.
②Powdered raw materials: After the first-cleared powdered raw materials and the dust produced by primary and secondary crushing are collected, they are recycled into the puffing bin.
Expansion stage
The pulverized raw material is processed by pressurization, heating, humidification and tempering by the extruding system of 10t/h fish feed manufacturing plant, and is extruded out of the die hole by mechanical extrusion, so that the pressure is suddenly reduced and the volume expands to form a kind of bulky and porous feed.
Ingredients stage
After the raw materials are puffed, they pass through the batching auger, and all of them enter the fish feed mixer for mixing.
Pelleting & cooling stage
The semi-finished product after mixing passes through the elevator and conveying scraper, and enters the silo to be granulated. It is transported to the modulator of the fish feed pelletizer through the feeding auger for high-sensitivity steam modulation, and directly enters the fish feed pelleting machine for granulation after modulation.
The semi-finished product after granulation is cooled by the fish feed pellet cooler, and then transported to the finished product rotary classifying screen by the elevator after cooling, and the semi-finished product is screened. Powdered semi-finished products that do not meet the requirements are returned to the silo to be granulated for re-granulation. (Maybe you are interested in : 8T/H floating fish feed plant)
The granules that meet the requirements are exported and then sprayed. After drying and cooling, they are sprayed onto the feed with a vacuum pump to increase the palatability of the feed.
Finished product packaging stage
Qualified finished products that have been crushed and screened out by grading screens enter the finished product warehouse through the elevator for packaging. Among them, the boiler fuel is natural gas, and the rest of the 10t/h fish feed manufacturing plant equipment uses electric energy.
The environmental protection of the fishery is becoming stricter, the fishing volume is shrinking, the removal of cages and the return of fish to the lake are favorable factors, the development prospects of the aquatic product breeding industry are broad, the aquatic feed industry is expected to share the policy dividend, and the demand is growing steadily.
Especially for mid-to-high-end varieties, downstream farmers may increase the amount of feed fed to increase and accelerate product weight gain, thereby driving demand for feed.

The healthy development of the aquaculture industry is inevitable, and the safety of farmed fish is a must, and the transformation of aquaculture methods has released a huge demand space for compound feed.
With the transformation of traditional aquaculture methods to resource-saving, environment-friendly and quality-oriented modern aquaculture methods, safe, efficient and environment-friendly aquaculture compound feeds have broad market expansion space and will surely become the leading products in the future market. If you are also interested in building a new 10t/h fish feed manufacturing plant, please feel free to contact Richi Machinery.
LEAVE YOUR NEEDS
Keeping in touch with us is an effective way to solve all your problems. If you have any needs or questions, please leave your contact information, then RICHI technical consultants will send design, quotation, videos to your mailbox. You can also contact us directly via WhatsApp: +86 13838389622