Overview of 10-12 T/H Floating Fish feed Machine in Russia
This is a single floating fish feed machine in Russia project, and it is also the fifth twin-screw extruder equipment we exported to Russia.
Project date: 2021.12.31——2022.09.06
Project location: Russia
Equipment output: 10-12 Tons Per Hour
Application: Production of salmon feed, trout feed, cod feed, herring feed
Extruded Feed Size: 1.5-6mm
Floating Fish Pellet Machine Price: 200,000-250,000 USD
Project status: ready to ship
2021.12.31, customers consult us:
"Good afternoon, I represent a large fish feed processing company in Russia, we are interested in purchasing an large fish extruder from you".
2022.09.06, the project was signed.

As far as we know, the customer's original aquatic feed production line has been established for 8 years. Due to the increasing demand for aquatic feed in the market, the customer intends to update equipment and expand production.
Therefore, the floating fish pellet extruder purchased this time is to replace its old equipment. In addition, the client is negotiating with us on the transformation and expansion of the aquatic feed production line.
Our engineers are also customizing plans for customers, including renovation and expansion plans for the main production workshop, raw material warehouse, finished product warehouse, boiler room and power distribution system.
Advantage of Floating Fish feed Machine in Russia
In recent years, the production of the feed industry tends to be intensive and large-scale, and the technical level of customers is also improving. With its own technical focus, superior host performance, and combined with rich on-site experience, RICHI MACHINERY has won the recognition and praise of many customers and many outstanding peers.
In many applications, customers or equipment suppliers will specify and choose our feed processing equipment. Because of this trust, our floating fish feed equipment is sold all over the world.
RICHI 10t/h high-capacity floating fish feed machine in Russia can not only meet the production needs of large-volume aquatic feed, but also increase product safety and reduce environmental pollution. The company's main product features are:
It has higher performance than similar finished products, and the production capacity is increased by more than 10% under the same power, and the energy consumption is lower at the same production capacity;
One machine with multiple functions and wide adaptability;
Stable and reliable quality and excellent service.
The market of the aquatic feed industry is constantly changing, and enterprises also need to adapt and meet the needs of the market. The multi-function and wide adaptability of our floating fish feed machines are mainly reflected in:
When the customer switches products, the 10-12 t/h floating fish feed machine in Russia can still run smoothly, and the same equipment can meet the production of multiple products and meet the quality required by customers.
Extrusion system with large length-to-diameter ratio and multi-configuration, efficient patented temperature control system, and diversified professional mold design, so that customers can rest assured to try to develop new products, instead of having to purchase additional auxiliary facilities to increase process complexity to fulfill.
Such as the switching from freshwater floating fish feed to special submerged feed, and the transformation from high-starch formula to high-fat, high-protein, low-starch formula, our equipment can perform very well.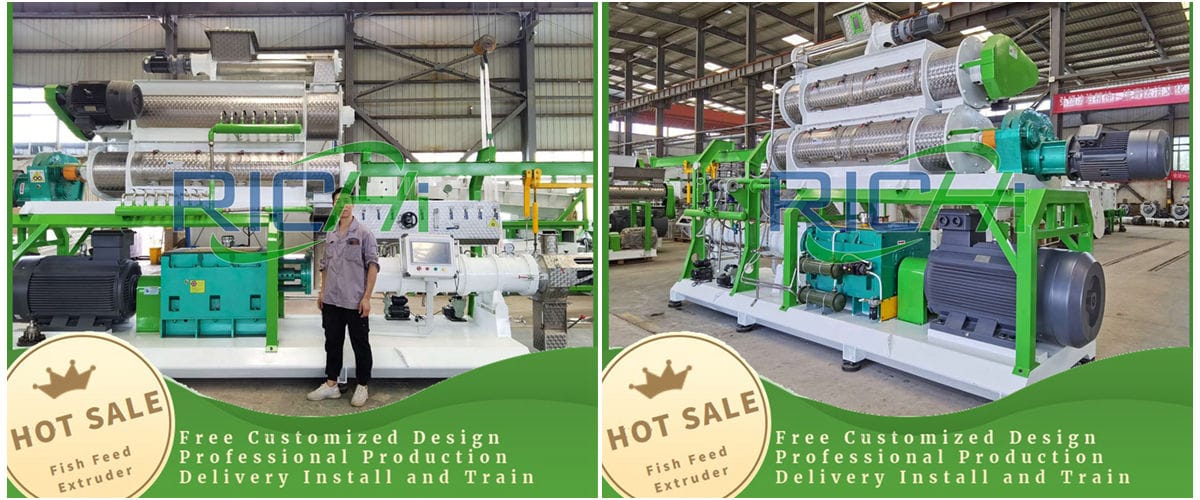 Parameter of 10-12 T/H floating fish feed machine in Russia
| | | | |
| --- | --- | --- | --- |
| NAME | MODEL | QTY | POWER(KW) |
| Anti-caking bin | PGS900/800 | 1 | 2.50 |
| Inverter feeder | WLQ219-1300 | 1 | 2.20 |
| Conditioner | DC600/300 | 1 | 15.00 |
| DDC-conditioner | DDC500/300-300 | 1 | 15.00 |
| Twin screw extruder | RCPH185*2 | 1 | 355.00 |
| PLC control system | / | 1 | 0.00 |
Our 10-12 t/h floating fish pellet machine can be configured with a variety of platens. Different die holes, different output. Take this device as an example:
φ3.0mm die hole, production capacity 11.4t/h, host load rate 95%, bulk density 338g/l, uniform particles, softening time 22 minutes.
φ3.5mm die hole, production capacity of 10.6t/h, host load rate of 90.5%, bulk density of 342g/l, uniform particles, softening time of 17 minutes.
φ3.0mm die hole, production capacity of 10t/h, host load rate of 83.7%, bulk density of 357g/l, beautiful particle quality, softening time of 21 minutes.

How to choose 10-12 t/h floating fish feed machine in Russia?
When building a new aquatic feed mill or transforming an original feed production line, the type of floating fish feed extruder should be considered first, and the matching extrusion extruder should be selected according to the feed production capacity; especially when the old factory is reconstructed, the original pulverizer should also be considered , Whether the production capacity of dryers and coolers is sufficient. Several issues should be considered when choosing:
For aquatic feed, a good puffing effect is that the particle forming rate is above 99%, the particle pulverization rate is less than 1%, the particle floating rate (sinking rate) is 100%, the particle size is uniform, the color is consistent, and it has good water resistance. ; Floating aquatic feed is kept in water for 10 hours, and sinking aquatic feed is kept in water for 3 hours without collapsing.
At present, RICHI's products and technologies such as fish feed pellet extruders, feed dryers, pulverizers, mixers, aquatic feed processing technology and equipment, and electronic control technology have ranked among the industry leaders.
In addition to single floating fish feed equipment, RICHI also undertakes the construction of various aqua feed production lines. Here are some of our projects of floating fish pellet machine for sale the world: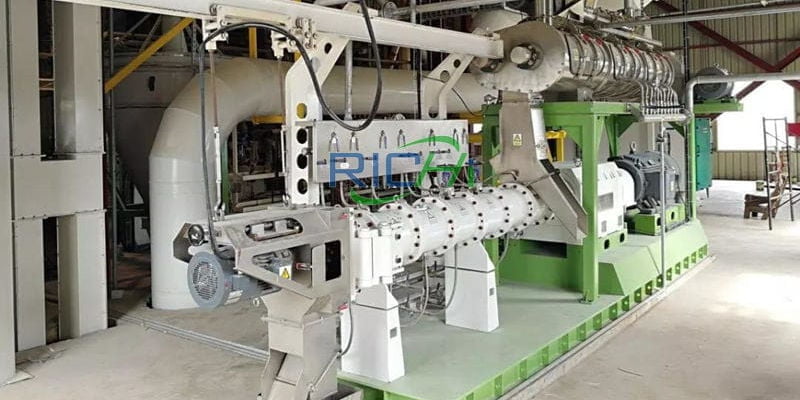 10-12T/H
10-12 T/H Large Fish Feed Extruder Machine For Sale Russia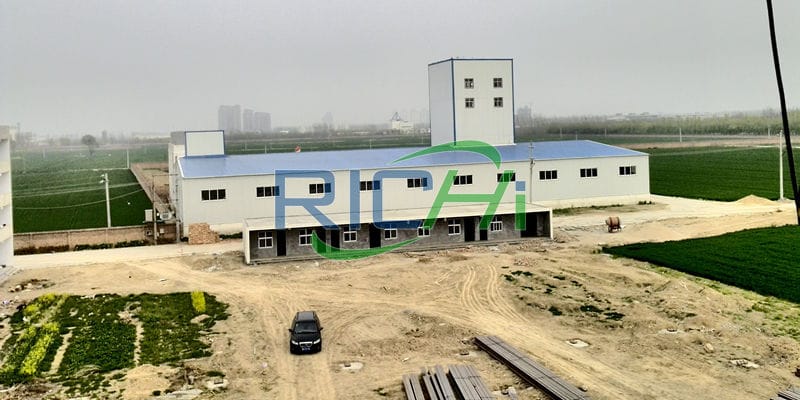 1.5-2T/H
1.5-2T/H Twin-screw Floating Fish Production Line & Shrimp Feed Line In Iran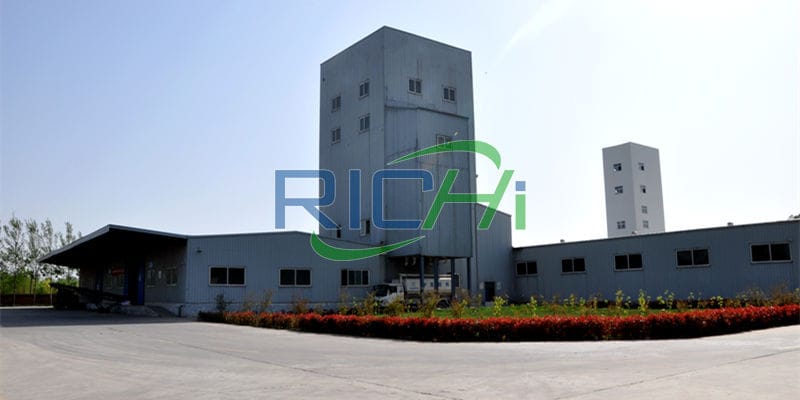 1.5-2T/H
1.5-2T/H Floating Fish Feed Machine Plant In Russia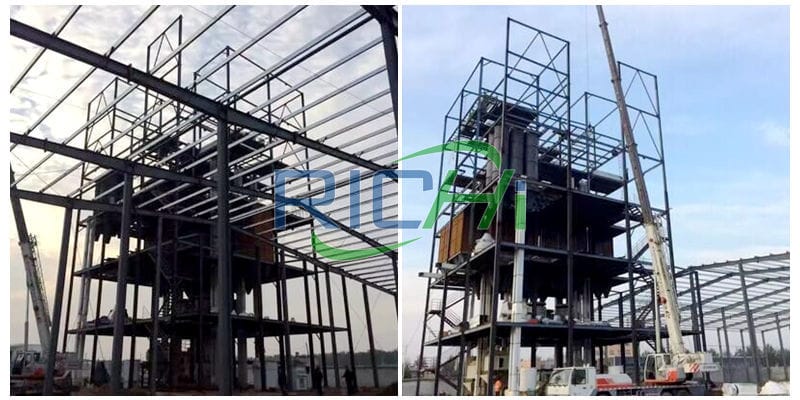 1T/H
1T/H Floating Fish Feed Mill Plant & 2*5-7T/H Poultry Feed Plant In Zimbabwe
In response to the large-scale development trend of aquatic feed, we have been optimizing and improving the production capacity of aquatic product series, strengthening the investment in mechanization and intelligent application, and using RICHI intelligent equipment and systems more efficiently to solve the problem of increased labor costs and poor feed quality in feed factories.
In the future, we will uphold an open attitude and cooperate with major scientific research institutions around the world to jointly improve the technical level of the entire equipment and the quality of feed.
If you are interested in our 10-12 t/h floating fish feed machine in Russia project, welcome to contact us for equipment details and quotation. If you want to build an aqua feed mill or renovate a floating fish feed mill, please contact us to customize the most suitable solution for you.
LEAVE YOUR NEEDS
Keeping in touch with us is an effective way to solve all your problems. If you have any needs or questions, please leave your contact information, then RICHI technical consultants will send design, quotation, videos to your mailbox. You can also contact us directly via WhatsApp: +86 13838389622