On 2022.06.02, the Indonesian customer and Richi Machinery signed a formal contract in RICHI for the 2t/h shrimp feed mill in Indonesia project. The project invested more than 600,000 US dollars. After completion, it will help the shrimp feed processing industry in eastern Indonesia to achieve leapfrog development.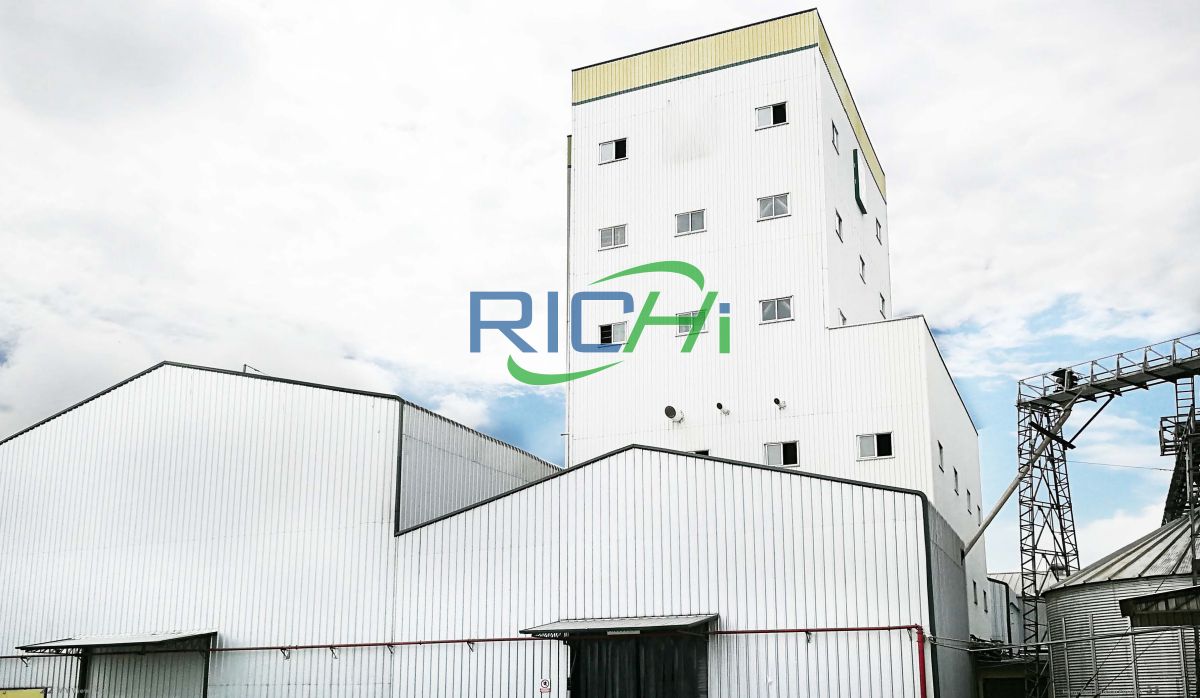 Transaction date: 2022.06.02
Transaction country: Indonesia
Transaction amount: $600,000
Production cycle: 60 days
Delivery cycle: by sea, 40 days
Installation period: 90 days
Container information: 7*40HQ +1*20FR+3*40HQ
Voltage: 380V, 50HZ, 3 phase
Customer's initial inquiry content:
Dear Richi, we are interested about your machinery. Our need below:
1 full set line shrimp feed (complete from receiving system to packaging) – (sinking)
capacity 2 tph
we pay using LC
looking forward to hearing from you soon. Thank you. regards.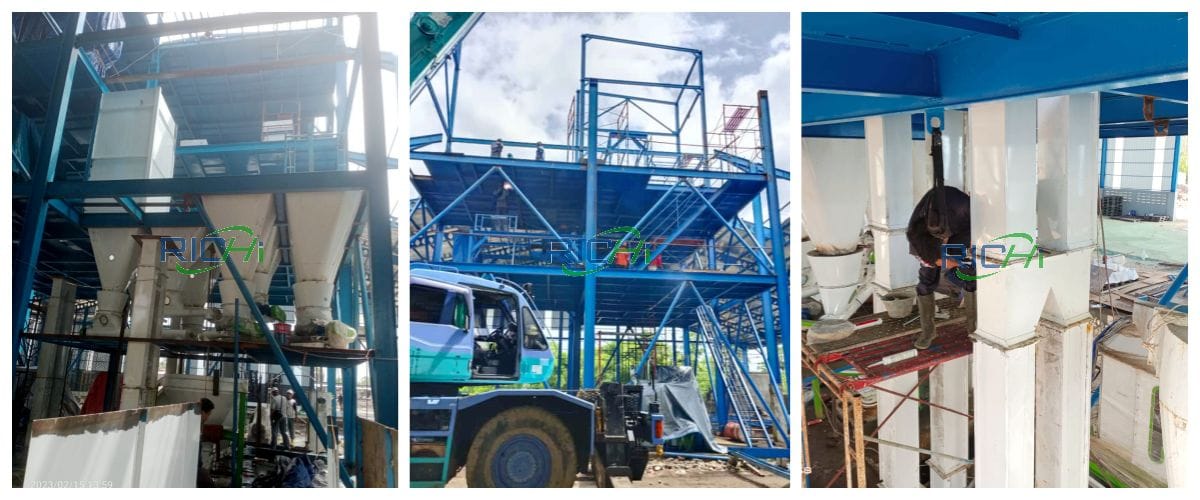 The customer company is pioneer of shrimp feed plant in the eastern of Indonesia. The company produces various powder feed, pellet feed, extruded sea and freshwater aquatic feeds, which are sold all over Indonesia. Also the leader in deep processing.
This time, the client of this project built a new 2t/h shrimp feed mill in Indonesia. After many inspections and several revisions of the plan, he finally chose to cooperate with Richi Machinery, which stems from the trust in RICHI's aquatic feed mill project.
RICHI aquatic feed machinery has always been recognized by the industry for its high-quality and high-efficiency image. The output of shrimp feed has increased by 10% compared with the peers. The output of Φ1.7mm shrimp feed can reach 2.2 tons per hour.
The service life of RICHI shrimp feed pellet mill ring die can reach 2500 hours, and the output can reach 6500-8500 tons. This project has also become another demonstration project established by RICHI in Indonesia.
Currently, this project is being installed. This project is a complete delivery project of Richi Machinery from process design, equipment layout, equipment selection, equipment manufacturing, and automatic operation control system. It is mainly used for the cultivation of South American prawns and wild prawns.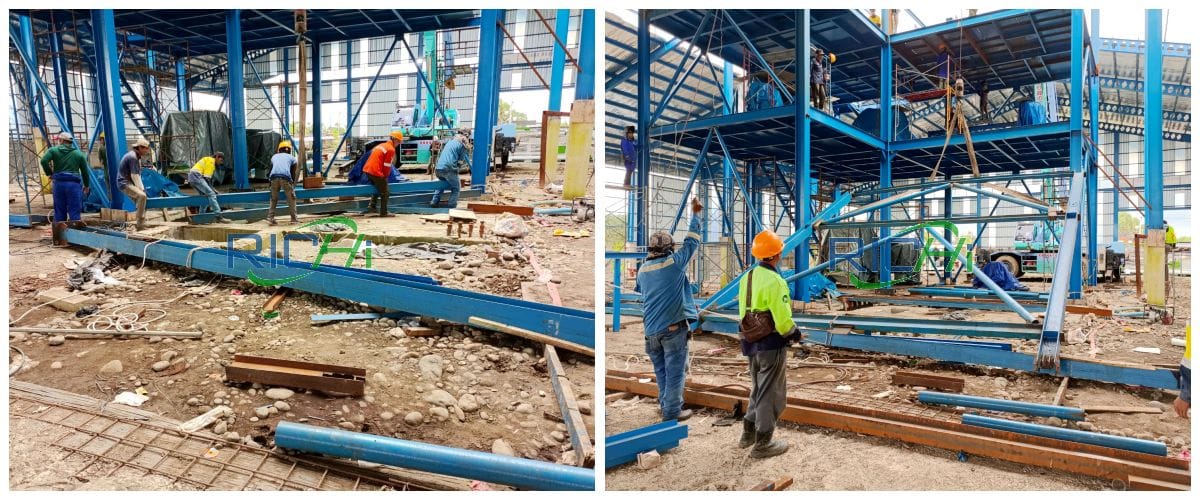 Indonesia 2 t/h shrimp feed mill features
Adopts batching first and then crushing process, it is suitable for high-protein, high-fat and low-starch aquatic feed processing.
Automatic batching system, equipped with 10 batching bins. The batching scale is controlled by the computer to achieve precise ingredients. The overall ingredient error ≤3 ‰.
Double crushing system reduces ton consumption.
Feed safety is an important line of defense that both customers and RICHI insist on. Energy conservation, environmental protection and sustainability have become the key to the joint creation of both parties. Equipped with SZLH series special granulation system for shrimp feed, with the help of special conditioning and host configuration for shrimp feed, it breaks through the influence of moisture in the whole process on the quality of pellets, and the stable production capacity of small particle size φ1.0 shrimp feed is 3-4 tons/hour; frequency conversion Type feed crusher, adjust the distance between the fast and slow rollers, and provide the basic guarantee for the production of high-quality shrimp feed.
Using normal pressure vertical spraying system, it can automatically adjust the spraying sequence and spraying amount according to the formula change, which can not only protect the effective activity of heat-sensitive components in the feed, reduce the loss of nutrients, but also improve the appearance and density of pellets Sexuality also has a very good effect, high quality, high yield, low cost, low residue is well deserved;
Equipped with automatic finished product packaging equipment, which effectively reduces labor costs and greatly improves packaging efficiency.
Process design and equipment configuration
The 2t/h shrimp feed mill in Indonesia is equipped with: material batching section, the first mixing & crushing section, second crushing & mixing section, pelletizing & cooling section and packaging section.

(1) Feeding & batching system
The grain is fed into feeding hopper, there is a setting dust removal device above the hopper, which can greatly reduce the dust generated during the feeding. The raw grain is then transported vertically by bucket elevator, after the initial clearance of pre-cleaner, The initial cleaning of the permanent magnetic cylinder, the grain is distributed by rotary distributor to different batching bins.
| NAME | MODEL | QTY |
| --- | --- | --- |
| Pulse dust collector | TBLMB.12B | 1 |
| Bucket elevator | TDTG36/18 | 1 |
| Drum type precleaner | SCY63 | 1 |
| Permanent magnetic sleeve | TCXT20 | 1 |
| Rotary distributor | TFPX10 | 1 |
| Batching scale | PLC0.5A | 1 |
(2) First Mixing and Crushing section
The raw materials after each batch of ingredients are completed from scraper conveyors and bucket elevator to pre-mixing bin. The shrimp feed mixing machine is aimed to mix each batch of raw materials evenly, and then the mixed raw materials enter into the shrimp feed hammer mill for grinding.
| NAME | MODEL | QTY |
| --- | --- | --- |
| Storage bin | 0.5m³ | 1 |
| Mixing machine (Pneumatic door) | SLHY.0.5A | 1 |
| Rotary feeder | SWLY20*40 | 1 |
| Shrimp feed hammer mill | SFSP56*40 | 1 |
| Pulse dust collector | TBLMa.12A | 1 |
| Screw conveyor (air locked) | TLSS16 | 1 |
(3) Second Crushing and Mixing section
Because the production of shrimp materials requires higher the crushing fineness of the raw materials, so the 2t/h shrimp feed mill in Indonesia is equipped with two crushing section. The first crushed raw materials are crushed by the water droplet crusher (2.5mm screen), the raw materials after secondary grinding (water droplet crusher (1mm mesh)) are put into pre-mixing bin for secondary mixing.

Each batch of mixed materials are divided into three stages:
The first stage of mixing begins when the materials enter the shrimp feed mixer, which lasts about 1 minute;
Then the premix is put into the small feed port to start the second stage of mixing, about 1 minute;
Finally, the grease is entered into the mixer through the grease adding system, and the third stage of mixing is started, about 1 minute.
(There are many types of greases added during the secondary mixing of the shrimp feed mill, so it's equipped with many oil tanks, and the oil automatic ingredient system is achieved through the requirements added by the formula. In addition, the mixing machine is also equipped with small feed port, which can add premix according to demand.
| NAME | MODEL | QTY |
| --- | --- | --- |
| Storage bin | 0.5m³ | 1 |
| Hammer mill | SFSP56*40 | 1 |
| Premix adding hopper | / | 1 |
| Single-shaft mixer | SLHJ0.5A | 1 |
| Chain conveyor | TGSU16 | 1 |
| Bucket elevator | TDTG36/18 | 1 |
(4) Pelleting system
After the material is mixed, the materials will be sent to the pre-pelletizing bin. After the pelleting mechanism, the material falls directly into the Pendulum stabilizer below for re-curing process, which can further improve the curing degree of feed pellets and improve the quality of pellets.
| NAME | MODEL | QTY |
| --- | --- | --- |
| Feeder | WLQ25 | 1 |
| Conditioners | TZ42*300 | 3 |
| Shrimp feed pellet machine | SZLH420 (ring die 1.5mm, 1:20) | 1 |
| Pendulum stabilizer | SWDB11*11A | 1 |
| Storage bin | 1m³ | 1 |
(5) Cooling & crumbling
The mature pellets enter into pellet cooler and pellet crumbler for crumbling (if the shrimp feed mill required size of shrimp feed pellet is small, the shrimp feed pellet crumbler will break the material; if the size requirements are larger, you can choose not broken), directly from bucket elevator lift vertical transportation.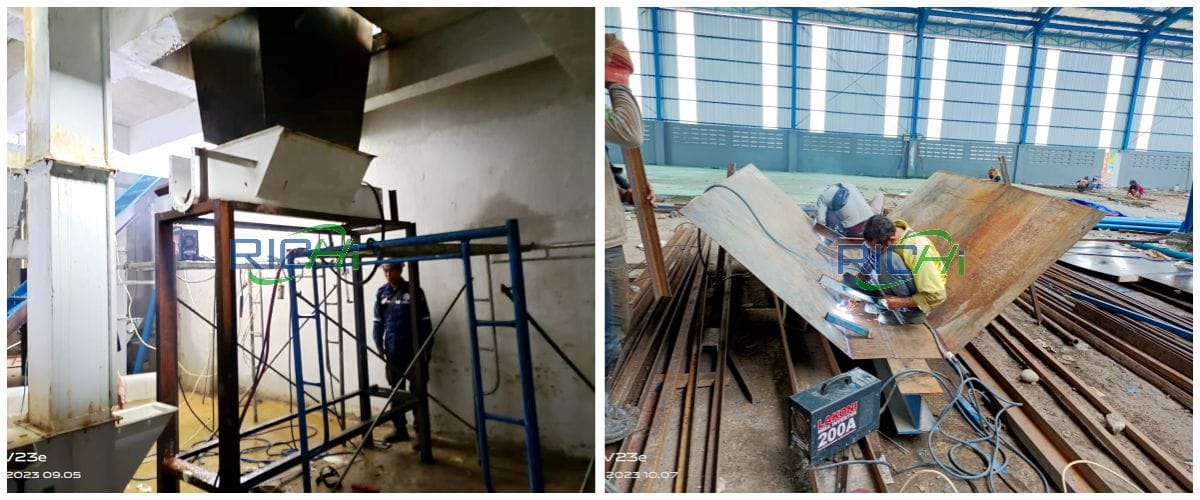 | NAME | MODEL | QTY |
| --- | --- | --- |
| Cooling Machine | SKLN11*11 | 1 |
| Shrimp feed crumbler | SSLG20*80X | 1 |
| Draught fan | 4-72-4A | 1 |
| Cyclone | SK800 | 1 |
| Air lock | GF.9 | 1 |
(6) Screening system
After vibrating screen (screening large size shrimp material), high square screen (screening broken shrimp material) screening, into finished product bin, the bottom of the finished product bin is again equipped with vibrating screen, secondary improving screen finalizing of the of finished feed pellets, after secondary screening, we can pack the pellets.
| NAME | MODEL | QTY |
| --- | --- | --- |
| Vibrating sifter | ZDS80 | 1 |
| Pneumatic two-way | YSTZ22A | 1 |
| Square plansifter | SFSJ.100X1 | 1 |
| Bucket Elevator | TDTG36/18 | 1 |
(7) Packing system
The feed pellet packing machine used in this 2t/h shrimp feed mill in Indonesia has an independent electric control cabinet. The packing weight can be set on the program for automatic packing.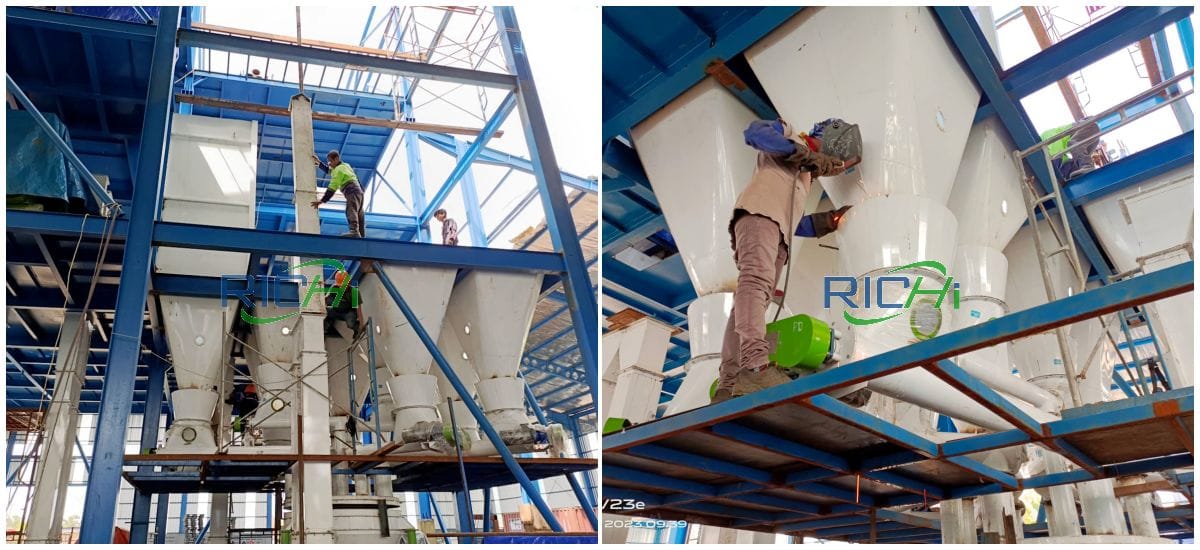 The packing scale needs manual bagging, the bag clamping function can be realized by touching the switch beside the packing scale, and the bag placing function can be realized automatically. Just open the belt conveyor for packing weights.
| NAME | MODEL | QTY |
| --- | --- | --- |
| Finish goods bin | 2m³ | 3 |
| Vibrating sifter | ZDS80 | 1 |
| Automatic Packing machine | DSC-50 | 1 |
| Sewing machine and belt conveyor | / | 1 |
| Draught fan | 4-72-2.8A | 1 |
| Pulse dust collector | TBLMa.8B | 1 |
Other equipment for 2 t/h shrimp feed mill in Indonesia
Oil adding system
NAME
MODEL
QTY
Heating oil storage tank
SYTZ100
1
Add oil line
/
1
Weight oil system
/
1
Electronic control section
NAME
QTY
MCC Control Center ;Mimic Control Panel —Power range from 22 kw for star triangle start —Main electric components are delixi brand
1
Batching System: fully automatic, controlled by computer
1
Cables & Cable Bridge Tube — From the MCC to equipment
1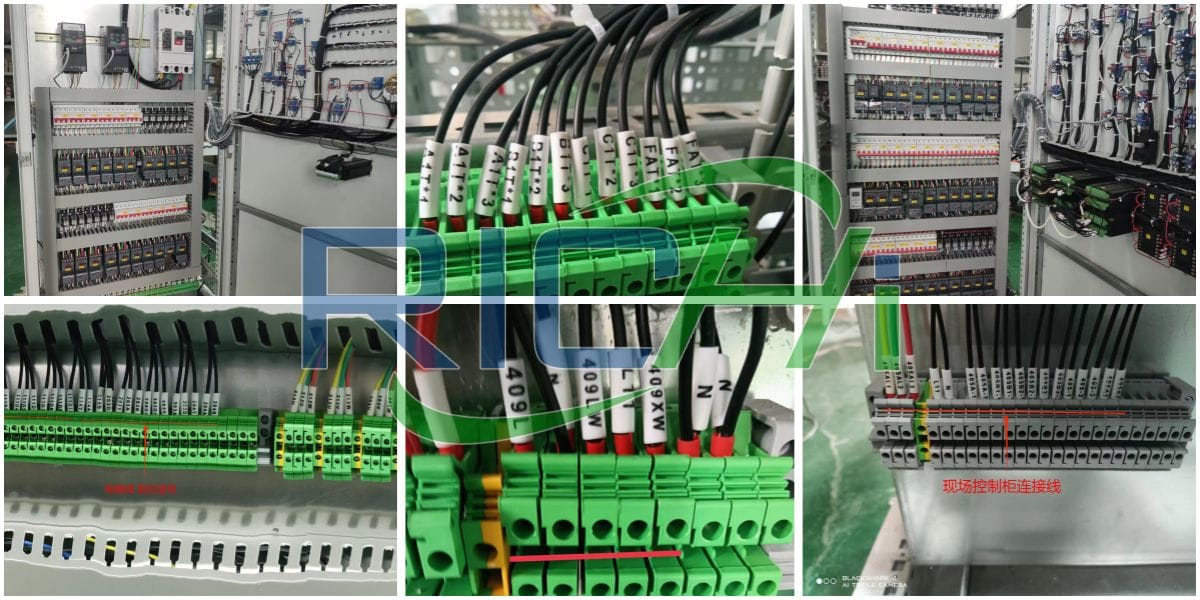 Auxiliary Equipment
| | |
| --- | --- |
| Boiler system | 0.3T,0.7Mpa |
| Air compressor and storage tank | 11KW |
Accessories
Together with the whole set of aqua feed production line equipment, the customer purchased a large number of accessories, such as full stainless steel ring die (1.2mm, 1.4mm, 1.5mm, 1.6mm, 1.8mm, 2.0mm), Roller shell, Roller assembly, Screener, Hammers, Safety pin, etc.
service support
Due to the epidemic situation in 2022, the 2t/h shrimp feed mill in Indonesia project is installed by the customer. In addition to the preliminary process design and equipment manufacturing, we also provide customers with a series of drawings:
Foundation construction drawing, Steel structure drawing, Wiring diagram, Cabletray drawing, Equipment layout drawing, Liquid adding system drawing, etc. Currently, the installation progress of the project 70%, and RICHI engineers will also rush to the Indonesian project site to provide customers with equipment debugging and training guidance.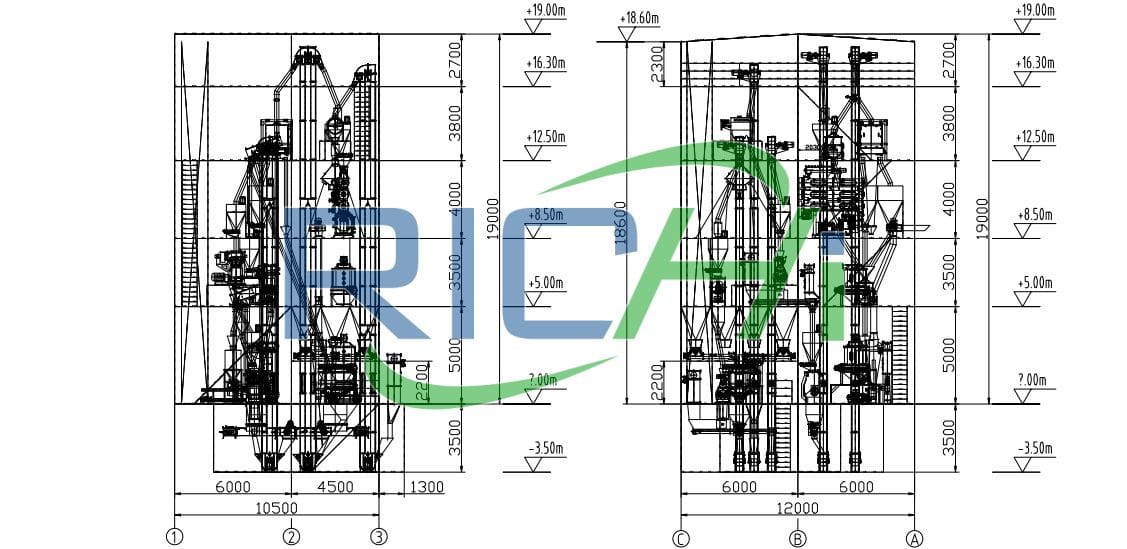 The RICHI service team will listen to customers' demands, understand the operation of the equipment, collect practical problems in shrimp feed plant project operation, and understand the actual needs of customers. These practical information will enable RICHI to continuously improve the applicability of products in overseas markets and improve the related services of customized services.
Market expectation
Shrimp Feed Processing
In the past two years, Indonesia's shrimp exports have been the most impressive among all Asian producers. Unlike many countries, in Indonesia, most of the largest shrimp feed producers are still local Indonesian manufacturers. Most feed companies in Indonesia produce a range of aquafeeds for various fish and shrimp species for Indonesian farmers.
Although there is competition in the shrimp feed industry and some regional markets are dominated by large multinational companies from Europe, the United States and Asia, many smaller local players still have a presence. This is the case in markets such as Indonesia and India, as well as smaller markets such as Brazil, the Philippines, Saudi Arabia and Venezuela.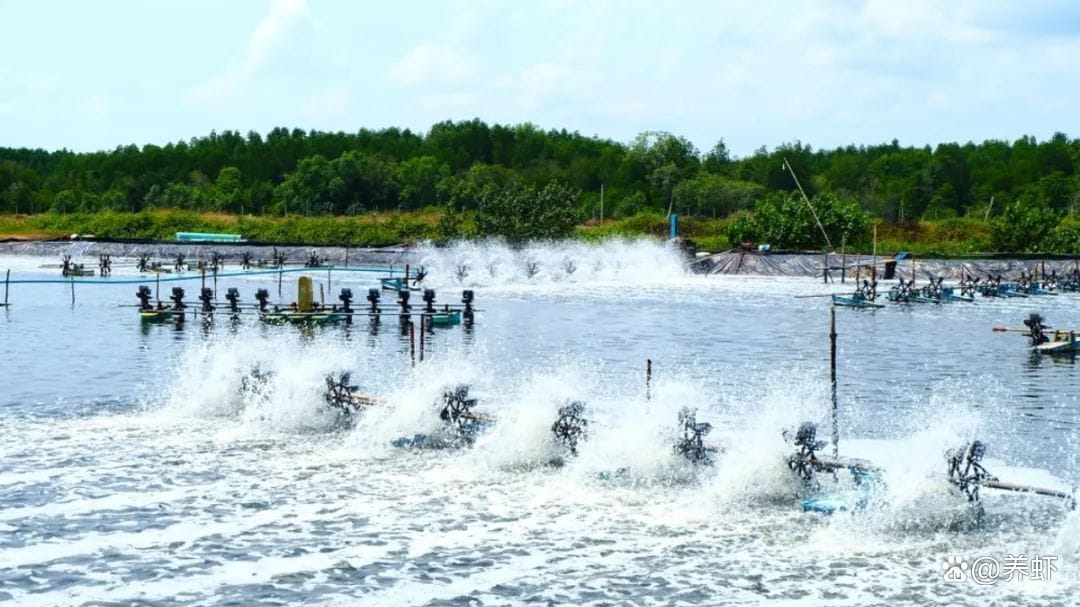 The client of this 2t/h shrimp feed mill in Indonesia project is an established aquatic feed processing enterprise in eastern Indonesia. Based on the good industry prospects in Indonesia, they invested in the establishment of a factory. In Indonesia, this investment is clearly very worthwhile.
Indonesian Shrimp Farming
The good prospects of the feed industry are of course based on the prospects of shrimp farming. Indonesia is one of the largest shrimp producers in Southeast Asia. In 2022, the Indonesian government announced that by 2024, it will increase shrimp production by as much as 250%.
Among them, the number of intensive ponds is expected to increase to 7,000 hectares, and the annual shrimp production will reach 280,000 tons; the shrimp production in semi-intensive ponds will reach 240,000 tons; and the production of traditional ponds is expected to increase to 286,000 hectares.
However, the increase in shrimp production requires not only the efforts of the Indonesian government, but also the development of the shrimp industry, including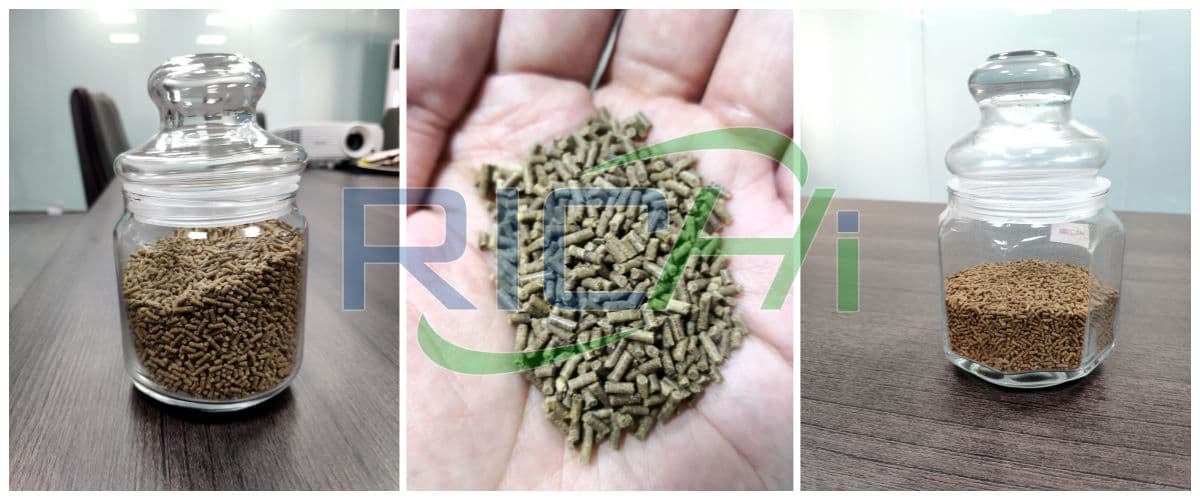 Improve modern shrimp farms.
Give policy and economic support to the shrimp industry, such as loans.
Supply high-quality shrimp feed, adopt modern breeding technology and supply high-quality shrimp seedlings,
The adoption of a sustainable farming model is a prerequisite for the development of the shrimp industry.
It is certain that shrimp feed mill in Indonesia will increase in the coming years, in which the expansion of intensive and super-intensive shrimp farms will play an important role. But other developments, such as: high-quality shrimp feed supply, high-quality seedling supply, infrastructure construction, will be challenges for Indonesia. In the next few years, Indonesia will definitely be a country that deserves the attention of everyone in the shrimp industry.

The use of high-quality special equipment for the aqua feed plant can meet the feeding needs of aquaculture animals to the greatest extent.
As well as the water quality and environmental standards of aquaculture animals, so that the growth of aquaculture animals is healthier and the economic benefits are more stable. If you also want to build a shrimp feed mill, welcome to contact us for a customized plan.
Technological innovation is the core strategy for RICHI to seek competitive advantages. It aims at user refined operation, provides strong impetus for sustainable development of users, focuses on the main channel of agricultural and animal husbandry development, adheres to the core value of "creating value for customers", and empowers the feed industry.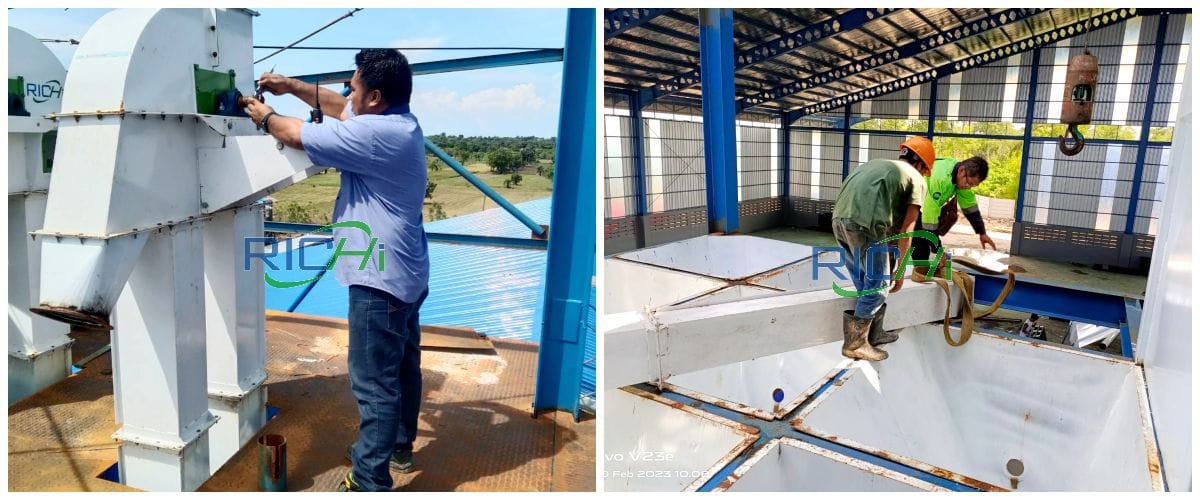 In the face of deepening environmental protection problems in the aquaculture industry, following a more scientific and environmentally friendly farming method has become a new sustainable development trend.
As a high-quality solution provider for agriculture and animal husbandry, RICHI continuously promotes the transformation and upgrading of the aquaculture industry with innovative technology and intelligent and stable products, and jointly builds green, environmentally friendly, efficient, and intelligent fish feed and shrimp feed mills.
Related Aqua Feed Production project
LEAVE YOUR NEEDS
Keeping in touch with us is an effective way to solve all your problems. If you have any needs or questions, please leave your contact information, then RICHI technical consultants will send design, quotation, videos to your mailbox. You can also contact us directly via WhatsApp: +86 13838389622