Overview of 5T/H Fish Food Machine in Uzbekistan project
The 5t/h sinking fish food machine in Uzbekistan project extensively draws on the advanced technology of feed machinery, and selects a combination of equipment with superior performance, which is composed of a fish feed pulverizer, a sinking fish feed pellet machine, a fish feed mixer, a fish feed cooler, and a screening machine.
Automatic feeding, fast feeding, smooth and uniform discharging, automatic temperature rise during the granulation process, gelatinization, aging, and granulation are completed at one time, the thickness can be adjusted within 1.5mm-4mm according to the needs of users, the surface of the granules is smooth, moderate hardness, easy to seal and store.
Project date: 2017.08——2017.11
Project location: Uzbekistan
Equipment output: 5 Tons Per Hour
Application: Production of catfish feed
Feed Size: 1.5-4mm
Complete Fish Food Machine System Price: 100,000-290,000 USD

In August 2017, this customer from Tashkent, Uzbekistan sent an inquiry:
"I am currently interested in knowing what the current price of buying and installing a sinking fish food machine in Uzbekistan. The one with 5-7T/H. Thanks".
In November 2017, the 5t/h sinking Fish Food Machine in Uzbekistan project was signed.
The 5t/h sinking fish feed machine for sale Uzbekistan project can process not only fish feed, but also pellet feed for cattle, sheep, rabbits, chickens, ducks, etc.; it can process pellet feed and powder feed. It is a feed production line suitable for multiple purposes.
The customer has its own large fish farm, and all the processed fish feed will be used for carp farming. In the following 2018-2021, this customer also purchased a full set of 3-5 t/h poultry feed production line, a full set of 5-7 t/h livestock feed line and stainless steel cooler from us.
Next, RICHI will introduce the design and equipment configuration of this project.
Process Design Of Complete 5T/H Fish Food Machine in Uzbekistan
When designing the aquatic feed processing technology, we fully understood the main product types, feed formula, production capacity, automation requirements and investment amount of Uzbekistan customers.
According to the actual needs and budget of customers, we design a variety of plans, comprehensively consider, adopt advanced and complete fish feed mill plant process flow, advanced equipment and highly automated control equipment to ensure product quality, reduce energy consumption as much as possible, and reduce production costs.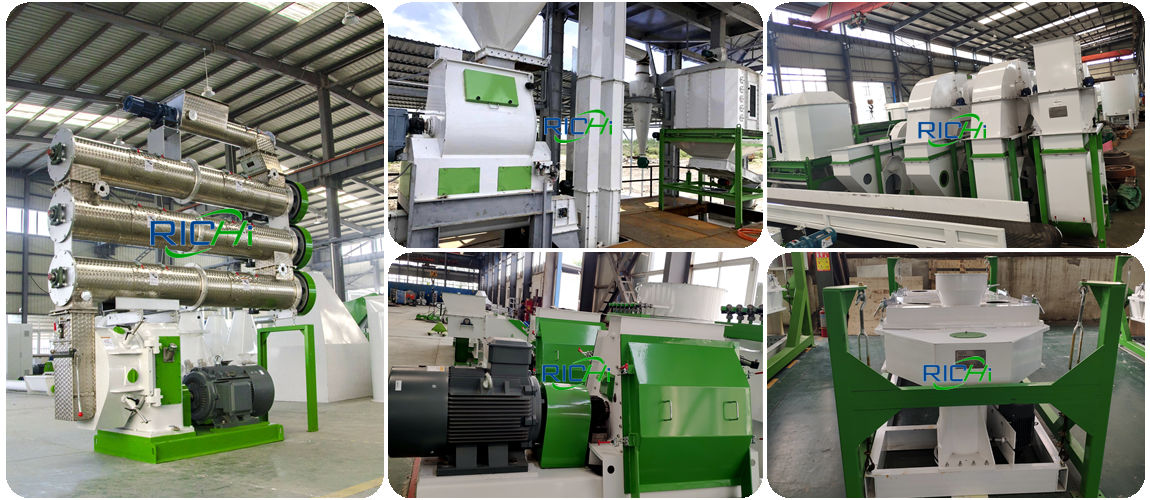 Technological process of 5t/h sinking Fish Food Machine in Uzbekistan:
Materials receiving& pre-cleaning system
Crushing system
Batching& mixing system (Computer controlled)
Pelletizing& cooling& screening system
Packing& dust collecting system
Oil adding system
MCC Control Center ;Mimic Control Panel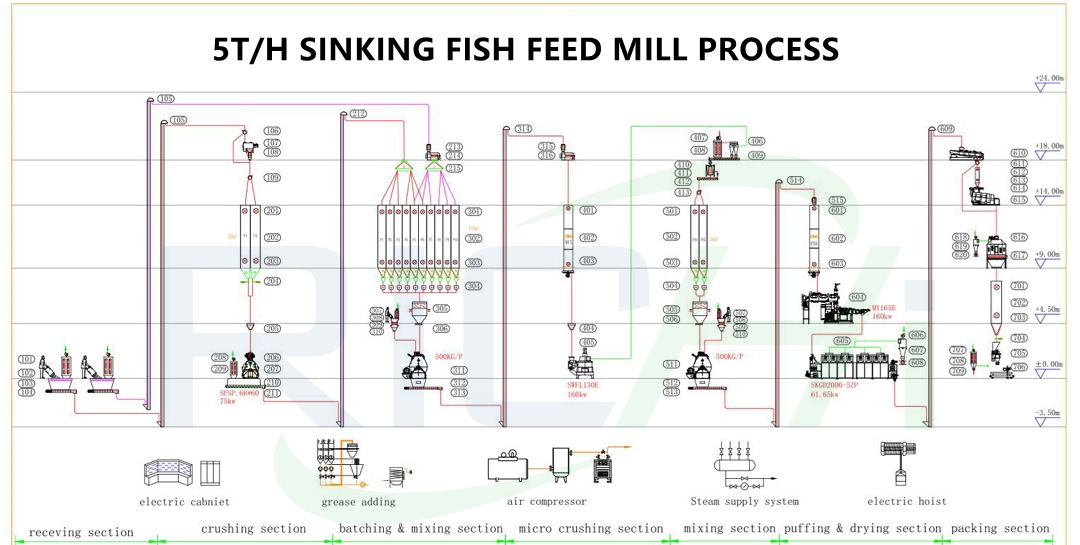 List Of Complete System 5T/H Fish Food Machine in Uzbekistan
In order to obtain high-quality aquatic feed, it is necessary to focus on the feeding characteristics of aquatic products fed by the main product, ensure all the nutrients it needs, adopt reasonable aquatic feed processing technology, and select appropriate processing equipment.
The following is the main equipment list for this aqua feed mill project:
1.Materials receiving& pre-cleaning system
NO.
NAME
MODEL
QTY
101
Feeding hopper with grids
/
2
102
Bucket elevator
TDTG36/28
1
103
Bucket elevator
TDTG36/28
1
104
Drum type precleaner
SCY63
1
2.Crushing system
201
Upper level indicator
KF1500
2
202
Cone bucket
/
2
203
Lower level indicator
KF1500
2
204
Pneumatic gate valve
TZMQ40A
2
205
Buffer bin
/
1
206
Variable frequency feeder
SWLY20X80
1
207
Fish Feed Hammer mill
SFSP66*80
1
208
Draft fan
4-72-5A
1
209
Pulse dust collector
TBLMa.36A
1
210
Settling chamber
/
1
211
Screw conveyor (air locked)
TLSS25
1
212
Bucket Elevator
TDTG36/28
1
213
Rotary distributor
TFPX8
1
3. Batching & SEC-mixing system
NO.
NAME
MODEL
QTY
301
Upper level indicator
KF1500
10
302
Cone bucket
/
10
303
Lower level indicator
KF1500
10
304
Outlet Screw conveyor
PLSS25/20/16
10
305
Batching scale
PLC1.0A
1
306
Pneumatic gate valve
TZMQS60A*2
1
307
Premix adding hopper
/
1
308
Small material checking balance
PLC0.1B
1
309
Pneumatic gate valve
TZMQ25B
1
310
Fish Feed mixer
SLHJ2A
1
311
Buffer bin
2.5m³
1
312
Scraper conveyor
TGSU20
1
313
Bucket Elevator
TDTG36/28
1
314
Permanent magnetic sleeve
TCXT20
1
315
Powder precleaner
SCQZ60*50*100
1
316
Rotary distributor
TFPX4
1
4. Pelletizing& cooling& screening system
NO.
NAME
MODEL
QTY
401
Upper level indicator
KF1500
2
402
Cone bucket
/
2
403
Lower level indicator
KF1500
2
404
Pneumatic gate valve
TZMQ40A
2
405
Under the hopper
/
1
406
Sinking fish feed machine & 2-Layer Conditioner
SZLH420
1
408
Cooling Machine
SKLN20x20
1
409
Crumbler
SSLG15*150
1
410
Rotary screener
SFJH125*2C
1
5. Packing& dust collecting system
NO.
NAME
MODEL
QTY
501
Upper level indicator
KF1500
2
502
Cone bucket
/
2
503
Lower levle indicator
KF1500
2
504
Pneumatic gate valve
TZMQ30A
2
505
Buffer bin
/
1
506
Automatic Packing machine
DCS-50
1
507
Sewing machine,belt conveyor
/
1
508
Manual pick up mouth
TZMS25
1
6. Oil adding system
NO.
NAME
MODEL
QTY
601
Heating oil storage tank
SYTZ100
1

Auxiliary Equipment
| | | |
| --- | --- | --- |
| Air compressor system | 22KW | Including air compresser, air tank, drying machine. |
| Bolier System | 1.0T | Quantity of steam 1.0T/H 0.7Mpa,horizontal type. with control cabinet, accessories. |
| Electric Hoist System | 4T, 1.5*1.5*24m | Including Elctric hoisting system, hanging basket,Vertical Shaft, lead rail . |
Advantages of RICHI sinking Fish Food Machine in Uzbekistan
Richi Machinery has been adhering to the principle of high quality in recent years. It knows that improving product quality can bring greater benefits to customers, reduce waste of raw materials, and improve market competitiveness.
There are also various ways to improve product quality, among which better key equipment and its auxiliary devices are an important way to achieve quality improvement.
Let's learn about the advantages of the key equipment of RICHI's sinking fish food machine for sale the world.
The advanced impeller feeder and sieve breaking detection device in the crushing section guarantee the quality of the crushing; the automatic control of the crushing fineness ensures balanced nutrition. The bearing temperature and the vibration of the grinder are out of tolerance alarm, and the relevant personnel are notified in time to deal with it to avoid equipment failure The loss of raw materials and product quality problems caused by it.
Improve the batching system in the mixing section, the automatic calibration scale avoids manual handling of weights, improves the calibration accuracy, and can also improve the safety and hygiene of the feed. Advanced batching algorithm, automatic calculation of drop, and frequency conversion feeding at the same time, adjust in time to ensure accuracy. Manual feeding of small materials can be replaced by a micro scale system, which directly enters the mixer, avoiding the waste of high-cost raw materials.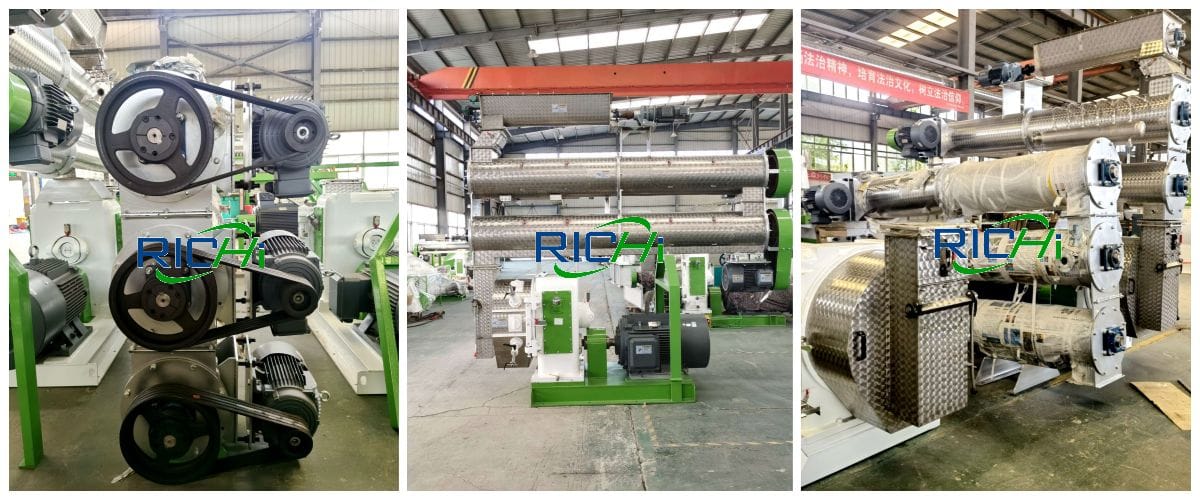 The pelleting section adopts a brand-new conditioner, which greatly reduces the discharge of the head material, enters the production process faster, and also makes the feed safer and reduces the labor intensity. The pressure roller of the 5t/h sinking pellet fish food machine in Uzbekistan is automatically adjusted, it can increase the work efficiency by about 85%, and also reduce the requirements for operators.
Energy saving and reducing energy consumption are the basis for enterprises to obtain good economic benefits. RICHI fish feed mill machines can monitor the "health status" of the equipment in real time, so that the equipment can always maintain high-efficiency operation. Timely remind the best time to replace key accessories…these These are the key "magic weapons" for RICHI to reduce energy consumption in the feed production process. At the same time, we will also seek a more energy-saving implementation method that is different from the traditional ones on auxiliary devices, so that the work of energy conservation and efficiency enhancement will flourish.
In other nodes in the factory, use advanced auxiliary devices and more reasonable process design to reduce labor, or reduce the requirements for the ability of operators as much as possible, and reduce the length of training. Online training can be used to reduce personnel gathering and training time. Save personnel costs, and create more benefits.

We have been systematically helping customers to solve the demand for high value-added aquatic feed, as well as the high professional level of the aquatic feed industry and the high requirements for hygiene and environmental protection. These are also the tasks that our professional R&D and service teams are doing their best.
If you are interested in our 5t/h sinking fish food machine in Uzbekistan project, and you also want to build or renovate your aquafeed factory, please feel free to contact us to customize the most suitable plan for you.
LEAVE YOUR NEEDS
Keeping in touch with us is an effective way to solve all your problems. If you have any needs or questions, please leave your contact information, then RICHI technical consultants will send design, quotation, videos to your mailbox. You can also contact us directly via WhatsApp: +86 13838389622