Background of 5-6T/H fish feed mill machine In Russia
Why do we have more and more fish feed mill machine projects in Russia? As we all know, Russia has great potential in the development of freshwater aquaculture and marine aquaculture. However, if you want to develop, you will face many problems, including "lack of feed production capacity"! Because the feed manufacturing industry in Russia is not well developed.
Many local fish farmers buy imported fish feed because they believe it will be better in quality and nutritional content.
It was also against this background that the Russian client of this 5-6t/h aqua feed mill project saw a business opportunity – to build a feed factory, specializing in the production of extruded trout feed. This client has relatively abundant funds, so in the early stage of the project, a technical team has been formed to handle matters such as formula and civil engineering applications, and at the same time find suitable feed equipment manufacturers in China.
Original consultation content: добрый день! меня интересует автоматическая экструзеная линия для кормов форели до 5 т в час
Project investment: 970,000 USD
Water (ton/year): 640t/a
Electricity (kWh/year): 7,550,000
Steam (tons/year): 20000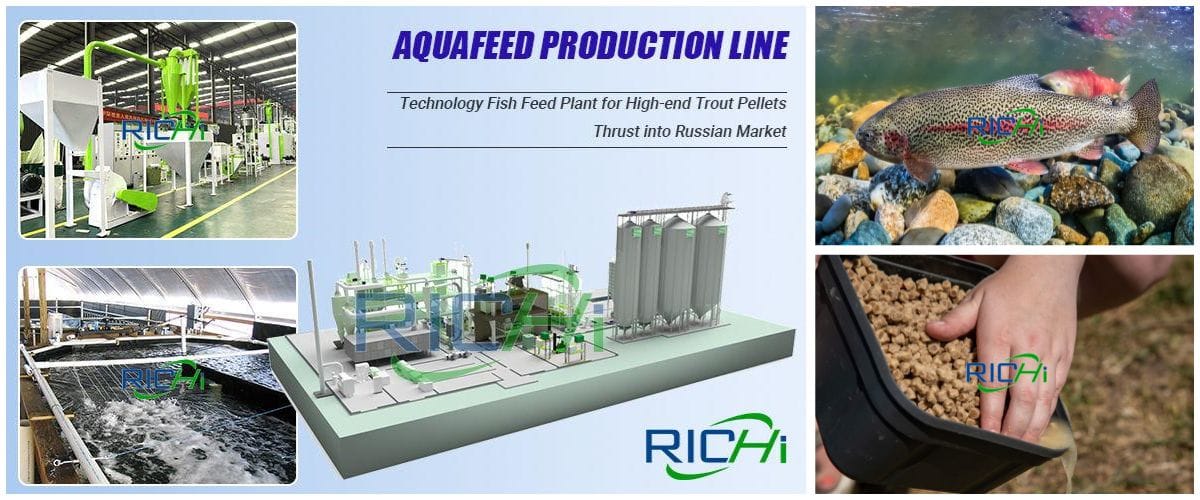 This client did not take many detours, because the client team had already fully understood us in the early stage of market research. Therefore, for this project worth more than US$1 million, it took 9 months from the beginning of finding a manufacturer to the signing of the project in August 2021.
Design of 5-6 t/h fish feed mill machine in Russia
During the design process, Richi Machinery always adheres to the "technologically advanced, production-feasible, and economically reasonable design principles" and designs with a scientific and serious working attitude.
The mature process route, reasonable configuration of floating fish feed mill machinery in Russia, and the combination of advanced production technology enable the factory to obtain better technical and economic indicators and higher economic benefits after it is put into production.
During the design process, RICHI engineers fully considered various factors such as mechanization of production process, automation of operation control, continuity of production process, and labor intensity of workers to improve production efficiency.
RICHI engineers fully considered the working environment of workers during the design process, reducing dust and noise to facilitate production operations and equipment maintenance.
The high-end aquatic feed production process from RICHI MACHINERY has good adaptability and can meet the needs of feed production with "many product varieties and changeable raw materials".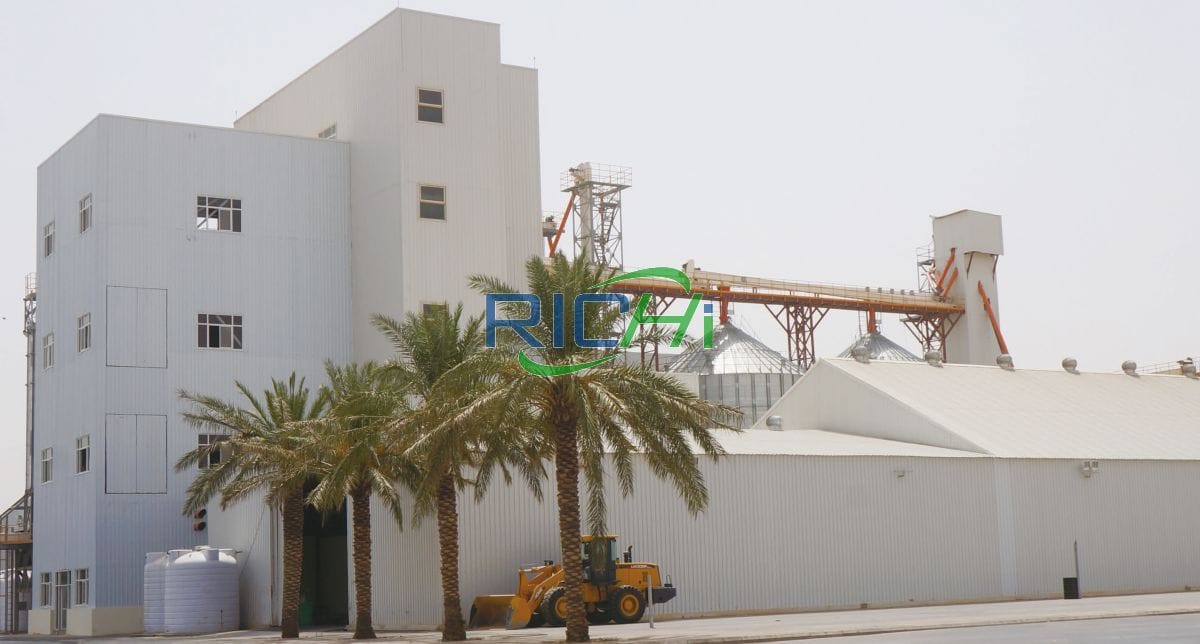 process design of 5-6T/H fish feed mill machine in Russia
Trout extruded feed is characterized by fine crushing (requires 60-100 mesh), and it also has high requirements for aging and tempering and high oil content. RICHI has configured a combination of mixer + fish feed extruder + post-injection for customers.
The diameter range of the finished pellet required by the customer is about 0.6-4mm). This trout extruded fish food processing line is designed to produce 5-6T/H per hour. It adopts primary crushing, primary ingredient mixing, secondary superfine crushing, secondary mixing, extruding, drying, spraying, cooling, and finally packaging the finished product.
The total power of the complete fish feed mill machine in Russia is about: 450KW; the construction area of the production area is about 30x24x30m (height).

Raw material receiving and cleaning system: In this section, the granular material feeding cleaning and powder feeding cleaning are separated independently, and the dust is removed separately, and the dust removal effect is good.
First coarse crushing system: This section adopts a crusher and two bins to be crushed, which can alternately change the crushed varieties. Before the raw materials enter the warehouse, the impurities are removed by the magnetic separation device to ensure the safe operation of the pulverizer.
First batching and mixing system: This section adopts 12 batching bins and one batching scale for batching, which is controlled by the batching program independently developed by our company to achieve accurate fast and slow feeding, fast batching speed and high precision.
Superfine powder system: Since the Russia 5-6t/h fish feed extruder has a relatively high requirement for the fineness of raw materials, generally 60-120 mesh.

So this section adopts a superfine pulverizer, equipped with two bins to be pulverized, which can store materials in turn material, reduce the idling time of the superfine pulverizer, adopt wind-type discharge, configure cyclone, pulse dust collector, and the grinding fineness can be adjusted.
Secondary mixing system: This section uses two secondary batching bins, a mixer, and a small material addition port.
Extrusion system: This section adopts a single-screw fish feed extruder. There is a puffing bin above the fish fed extruder machine. The puffing bin is designed as a round bin and is equipped with a disc feeder to prevent material from arching and discharge smoothly. .
Spraying and packaging system: This section adopts a set of roller grease spraying equipment, and a pneumatic tee is installed before entering the equipment. It can be selected whether the finished pellets are sprayed with oil according to different formula requirements.

Post-spraying solves the problem that the amount of oil added to the material in the early stage should not be too much to meet the requirements of the added amount of oil, and the feed after spraying has good appearance, strong palatability and strong nutrition. The materials after oil injection are screened and packaged after being cooled by the pendulum cooler.
Auxiliary system:
Dust removal system, dust removal at the packing port, improving the working environment of workers;
Oil and water addition system to improve feed palatability.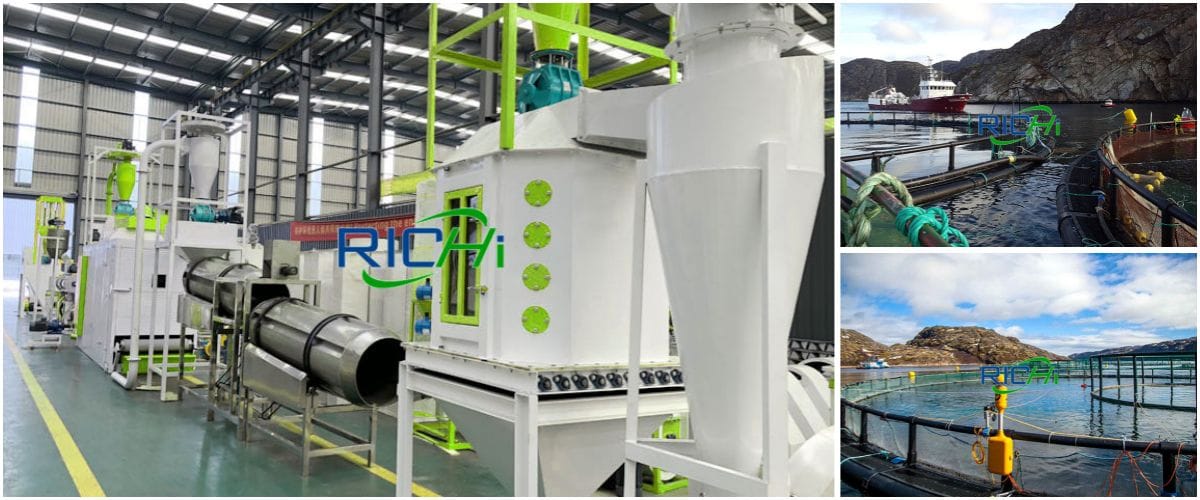 12*30T silo system operating procedures
When raw materials are incoming and entering the warehouse, please start S06 (electric three way), S08 (scraper conveyor), and S09 (electric gate) according to the principle of "from back to front", and select the silo to be fed, the other electric gates on the silos are all closed;
Then start S04 (bucket elevator) – S03 (scraper conveyor) – S02 (scraper conveyor);
After all equipment is started, the unloading door can be opened to discharge the raw materials into the unloading pit, and the material will enter into the corresponding silo along with the conveying equipment.
When the material in the silo needs to be unloaded, start S15 (scraper conveyor) – S14 (scraper conveyor) – S13 (scraper conveyor) in sequence, pre-adjust the manual gate to control the material flow, and then select the lower gate of the corresponding silo to discharge the material.
5-6 t/h trout fish feed machine list of fish feed mill in Russia
| Equipment | App |
| --- | --- |
| SCY80 grain screen, designed to produce 20-30T/H per hour | Cleaning section |
| Powder sieve SQLZ60×50×100, design output 10-15T/H | Cleaning section |
| Grinder SFSP668×600, 55KW, design output 5-7T/H | The first crushing section |
| Batching scale PCS10, batching accuracy: dynamic ≤ 3‰, static ≤ 1 ‰ | Ingredient System |
| Mixer SHSJ2, 1000kg/batch, designed to produce 8-10T/H. | First Hybrid System |
| Superfine powder machine, SWFL130, design output: 3-6T/H. | Second shredding system |
| Mixer SHSJ2, 18.5KW, 1000kg/P, design output 8-10T/H | Second Mixing System |
| Extruder: SPHS165, 2.2+18.5+160+5.5KW, designed hourly output: 3-6T/H (discharge aperture 4.0mm) | Extrusion system |
| Fish feed dryer machine: SHGW240×2-6, design hourly output: 4-6T/H | Drying system |
| Spraying machine: SYPG1000, 2.2KW, designed hourly output: 4-6T/H | Spraying system |
| Cooler: SKLB4, 1.1+1.5KW, 4m³ volume, designed to produce 6-8T/H. | Cooling system |
| Packing name: packing range 20-25kg/package, 4-6packages/minute. | Packaging system |
How do we custom design for customers?
The production environment has always been the content that RICHI attaches great importance to. This 5-6t/h floating fish feed plant in Russia adopts a single-point dust removal mode, and each rotary distributor and pellet cleaning screen is equipped with a pulse dust collector, and the dust removal effect is very good.

This is the humanized design we provide for customers, which can provide a better working environment for customers' fish feed factories.

I have to say that this will indeed increase capital investment. However, for countries and regions with very strict environmental protection requirements, these investments are necessary. If your region does not have strict requirements in this regard, you can also Consider whether to adopt this configuration according to actual needs.
According to the needs of customers, his aquatic feed formula may be changed. Therefore, in our design, the number of silos in this 5-6t/h trout fish feed mill machine in Russia can also be adjusted according to the customer's formula and the characteristics of raw materials, so as to achieve the highest utilization rate as much as possible, which can effectively control the production cost of the fish feed factory;
The installation form of the silo in the fish feed plant can also be assembled or welded. The cost of the assembled silo is relatively high, but the on-site installation will be very fast.

If the welded silo is used, the cost is indeed relatively low, but it requires on-site workers For welding and fabrication, the labor cost will be higher, the labor intensity will be higher, and the time will be longer.

Generally, we make silo plans according to the actual situation of the customer, and the user can make a reasonable choice according to their own needs. Generally speaking, in areas with high labor costs, prefabricated silos are usually used.

This 5-6 ton hr feed pellet production line project adopts a fully automatic ingredient mixing process, which requires a large investment in equipment, but the production efficiency is also high, which is very suitable for customers with sufficient funds. If the funds are not sufficient, you can choose batch-based non-automatic ingredient mixing process. For this design, the input cost of 5-6t/h fish feed mill machine in Russia is relatively low.
Dehumidification process plan for aquatic production line: The puffing modulator has an independent hot gas dehumidification system, no power configuration, efficient discharge of excess steam, energy saving and consumption reduction, and production efficiency.
2nd crushing process plan: two-time crushing to meet the needs of different formulas and raw materials, and the fineness of crushing can be adjusted according to individual needs.
Powder recovery and treatment plan: Efficient, energy-saving, automatic receiving and processing of unqualified powder in the production process, reducing labor intensity while ensuring that raw materials return to the batching system for reprocessing. The core of aquatic feed processing is extruding.

Through the control of humidity and temperature, the quality of feed will reach the best state in the process of finishing. The application of RICHI extruding system perfectly meets all the needs of customer for high-grade aquatic feed. It guarantees the maximum retention of feed quality and nutritional value of raw materials.
Relying on years of experience accumulated in aquatic feed, RICHI also designed a screw configuration and screening system that can adapt to multiple formulations for this Russian customer, and created a personalized production and feed production line.

Through personalized production, the customer has the opportunity Provide farmers with customized products to meet their different expected requirements, increase the core competitiveness of products, and expand market share.
Extrusion system – the core of fish feed manufacturing plant
With the overall improvement of the scientific and technological level of the feed industry, cost control is very important, and the rational design of the feed factory and the selection of energy-saving and efficient fish feed mill machine are also the focus of consideration.
The use of RICHI twin-screw extruder has greatly improved the production efficiency and product quality of aquatic fish feed production plants, and greatly met the needs of aquatic feed processors.

RICHI fish food extruder Machine features:
Wear-resistant alloy screw bushing, screw service life> 22000 tons (120*2)/40000 tons (150*2); bushing life> 50000 tons (120*2)/60000 tons (150*2) ;
High-life gearbox, free warranty of 30,000 hours for the gearbox; characteristic high-precision gears, imported high-quality bearings, oil seals, advanced gearbox design and processing control technology;
Equipped with an overload protection clutch to ensure the smooth and safe operation of the trout feed extruder;
The discharge device of this equipment makes the extruded trout feed more beautiful, the output of the small hole diameter mold is also increased by 30%-40% than before, and the shape of the feed is also very uniform.
The trout feed produced by the RICHI fish pellet extruder machine can witness the degree of expansion and crushing fineness of the product with a glass of water. High-quality fish feed is produced with high-quality technology. The degree of expansion is high, the shape of the material is uniform and stable, and it is easy for fish to digest and absorb.

Progress of 5-6 t/h fish feed mill machine in Russia
Project status: under construction
This customer has high standards and high requirements for project management and feed mill machines. The RICHI project team officially entered the site and started construction.
From building platforms to hoisting, from product connection to on-site wiring, from painting to commissioning, testing machines, superb installation and rich construction experience have been highly recognized by customers.
With excellent team quality, meticulous and thoughtful engineering services, and high-efficiency and energy-saving product equipment, Richi Machinery will successfully create a high-quality, energy-efficient high-end aquatic product extruded aquatic feed mill project for Russian customers.
The successful commissioning of the extruded feed mill factory will further improve the quality of Russian aquatic feed products and enhance market competitiveness.
In the past 30 years, RICHI has always adhered to the concept of "focus on energy saving & service first". It has returned to customers several times a year to solve customer pain points and difficult problems. More partners create high-efficiency, energy-saving, environmentally friendly, and stable wealth factories, helping more partners to succeed and creating a better future together!
If you want to set up your 5-6t/h fish feed mill machine in Russia or any other countries, feed free to contact Richi Machinery!
LEAVE YOUR NEEDS
Keeping in touch with us is an effective way to solve all your problems. If you have any needs or questions, please leave your contact information, then RICHI technical consultants will send design, quotation, videos to your mailbox. You can also contact us directly via WhatsApp: +86 13838389622