RICHI 4-5t/h floating fish feed pellet making machine is a kind of twin-screw feed extruder, mainly used in the production of aquatic feed, pet feed, livestock and poultry extruded feed.
Extrusion and puffing is a high-temperature, high-pressure, instantaneous, and ripening process. The extrusion puffing machine integrates the functions of material transmission, crushing, mixing, shearing, stretching, extrusion, molding, and sterilization. There are thousands of feed and food varieties that can be developed and produced by floating fish feed extruder machines, and the general production process is simply incomparable.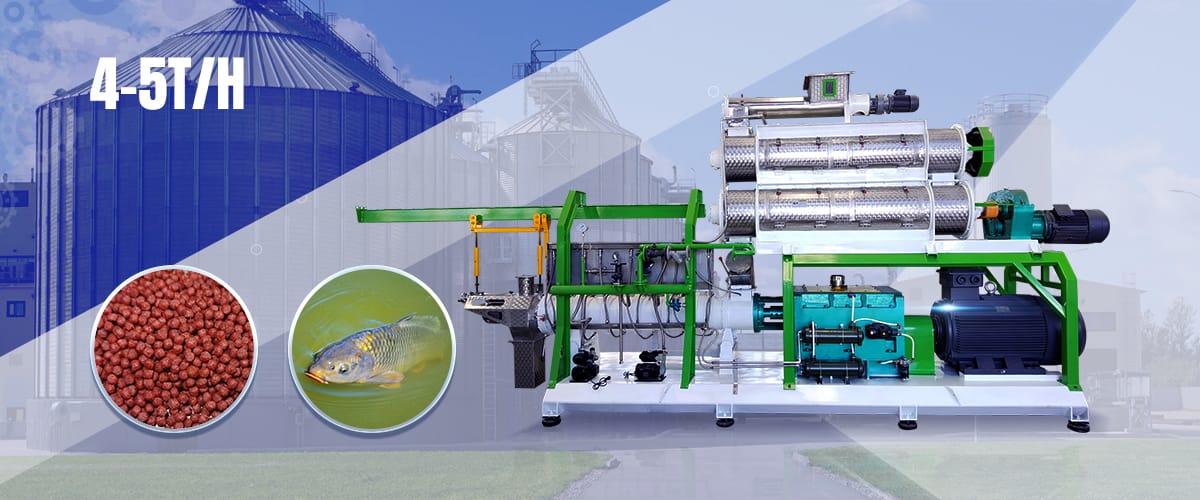 RICHI fish feed floating pellet making machine series are already applied in various industries from the aqua feed and pet food sectors. Durable floating feed making machine with precise control of heating and liquid addition for extrusion of a high-quality product. Completed with a user- friendly control system.
Video of floating fish feed pellet making machine
Floating fish feed pellet making machine price and technical parameters
4-5 t/h Floating fish feed pellet making machine price: 140,000-150,000 USD
| | | |
| --- | --- | --- |
| NAME | MODEL | POWER |
| Anti-caking bin | PGS900/800 | 1.5+0.3 |
| Inverter feeder | WLQ219-1300 | 1.50 |
| Conditioner | DC500/244 | 11.00 |
| DDC-conditioner | DDC500/400/244 | 11.00 |
| Twin screw extruder (PLC control system) | RCPH150*2 | 200.00 |
Advantages of floating fish feed pellet making machine
The application of RICHI 4-5t/h aquatic floating fish feed pellet making machine in the production process of aquatic feed can replace the traditional single-screw extruder machine for fish feed. It can improve the use width of feed raw materials and feed production quality, and meet the production needs of high-grade extruded aquatic feed.
For the production process of ordinary aquatic feed, adjust the crushing process (addition of a superfine pulverizer), and upgrade the process with RICHI special twin-screw floating fish feed making machine for aquatic products, which can expand the production grade of extruded aquatic feed and realize the process upgrade of the aquatic feed factory. to satisfy the market's needs.

Strong raw material adaptability: RICHI floating feed making machine can adapt to feed processing of various formulations such as low starch, high protein, and high fat;
Innovative die design: Our machine has absorbed advanced technology from Europe and America, based on the practical data of die material and process, die hole structure, hole layout technology, etc., to ensure that the product pellet size is consistent and the appearance is beautiful;
Enhanced wear resistance of screw and bushing: This equipment adopts new wear-resistant and corrosion-resistant materials, which greatly improves the service life and makes the whole machine more stable and reliable;

Imported gearbox: The equipment adopts the gearbox of the world-class brand, and is equipped with a torque limiter, which is reliable in use and low in maintenance cost;
Integral molding: The equipment adopts integral forging process, which can greatly reduce the risk of cracks and prolong the service life of the product. It can also detect the wear of each section of the bushing without dismantling the machine to ensure the production capacity of the equipment and the quality of the product;
Flexible adjustment of product density: Different density control systems can be configured according to different shrimp feed formula requirements of customers to meet customers' needs for simultaneous processing of floating feed and sinking feed;
Automatic control system: It has feed formula management, one-button start-up, load control, precise water vapor addition, online adjustment of mechanical energy, and production information recording.
Floating fish feed pellet making machine project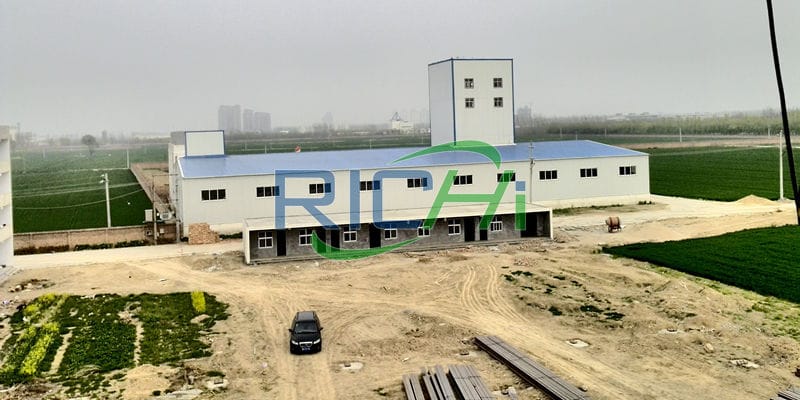 1.5-2T/H
1.5-2T/H Twin-screw Floating Fish Production Line & Shrimp Feed Line In Iran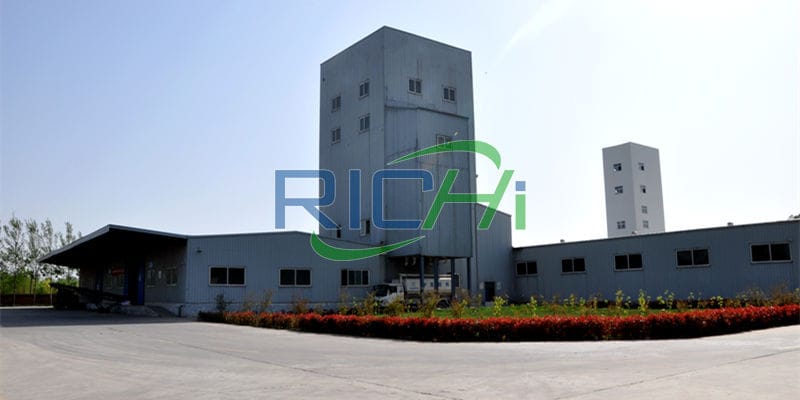 1.5-2T/H
1.5-2T/H Floating Fish Feed Machine Plant In Russia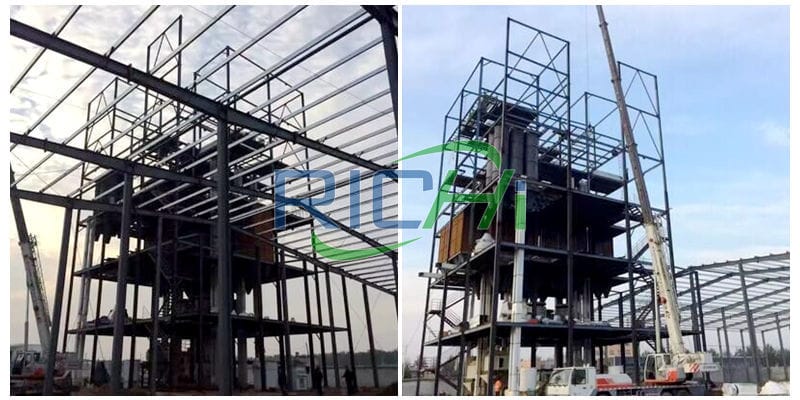 1T/H
1T/H Floating Fish Feed Mill Plant & 2*5-7T/H Poultry Feed Plant In Zimbabwe
How to choose a floating fish feed pellet making machine?
When building a new aquatic feed mill or transforming a raw feed production line, when selecting an extrusion pellet extruder, first consider its type, and select a matching extrusion fish feed floating pellet making machine according to the feed production capacity.
Especially when renovating an old factory, it should also consider whether the production capacity of the original crusher, fish feed dryer, and fish pellet cooler is sufficient.

Richi Machinery suggests that when selecting a floating fish feed making machine, the following issues should be considered:
(1) extrusion effect
For aquatic feed, a good puffing effect is that the particle forming rate is above 99%, the particle pulverization rate is less than 1%, the pellet floating rate (sinking rate) is 100%, the pellet size is uniform, the color is consistent, and it has good water resistance.
In addition, the floating type aquatic feed is kept in the water for 10 hours, and the sinking type aquatic feed is kept in the water for 3 hours without collapsing.
(2) floating fish feed pellet making machine price
The equipment investment cost of the twin-screw floating fish feed pellet making machine is 1.5 to 1.7 times that of the single-screw pellet extruder with the same production capacity; the cost of wearing parts is about 1.5 times that of the single-screw fish feed making machine ; 1.5 times that of the screw extruder machine.
However, what needs to be considered in the end is: due to the good operational stability of the twin-screw feed machine, in the process of feed processing, the startup cost is less, the waste of water vapor is less, the labor cost is less, the heat transfer efficiency is high, the yield is high, and the kWh output with high indicators and low cost of accessories, the final production cost is still much lower than that of single screw.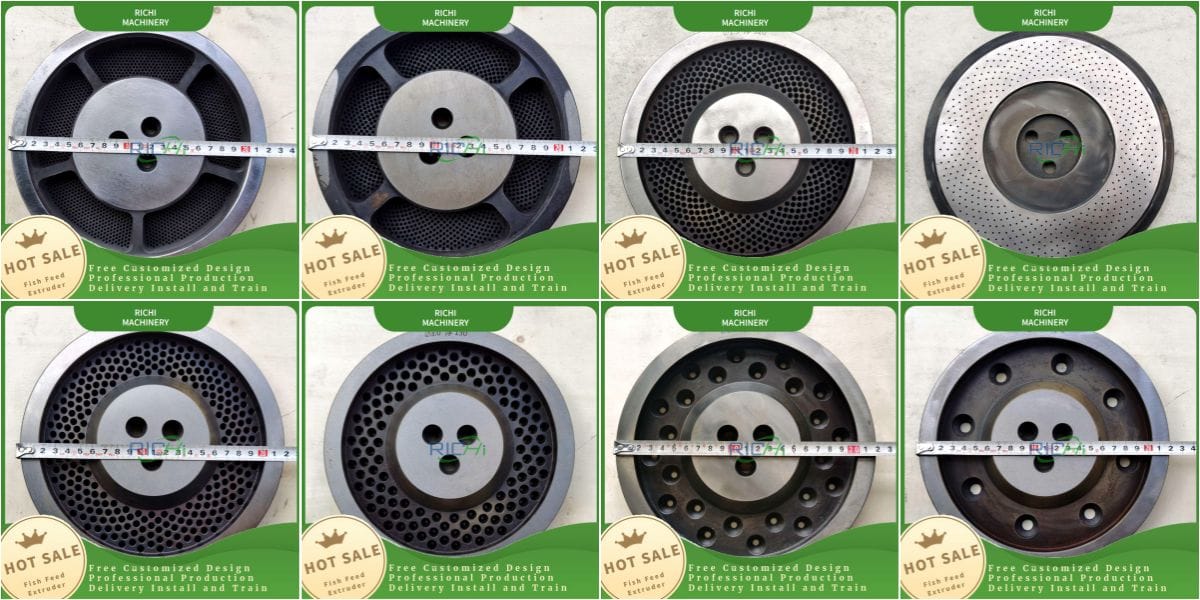 (3) Service life
Floating fish feed pellet making machines from different manufacturers have different service life due to different structural features and materials used. Therefore, when selecting a fish pellet machine, special attention should be paid to the wear resistance of some wearing parts, and whether its structural design is reasonable, and whether it can achieve the purpose of reducing screw wear.
In addition, when selecting a feed pellet machine, it is also necessary to consider whether the machine can really achieve the purpose of saving energy and reducing consumption. For raw materials that have not been ultrafine powder, the wear of the wearing parts will be more serious, especially the twin-screw fish feed pellet making machine.
(4) Control mode
Extrusion processing is mostly manual or semi-automatic, and the quality of extrusion products has a lot to do with the quality of the operators themselves.
Artificially controlling the addition speed of feed, steam and water and the temperature of the product will cause the quality of the granular product to be unstable, especially the inhomogeneity of moisture, so that the moisture content after drying cannot reach the target, and substandard products will be produced. Feed mills bring greater economic losses.

Taking an aquatic floating fish feed pellet making machine with an output of 6 tons per hour as an example, when the water content of the pellets exceeds the safe storage water content, the pellets will become moldy.
When the water content of the pellets reaches the safe storage water content, the economic loss of the aqua feed mill for one year will be reduced by every percentage point of water reduction. will amount to $140,000.
The fully automatic control method adopts advanced computer to control the flow of materials, water and steam, automatically add according to the settings, and implement alarms for all failures, eliminating the influence of human factors and unavoidable product quality fluctuations related to the operation of floating fish feed making machines.
Starting your Complete floating fish feed mill plant
In addition to floating fish feed pellet making machine, RICHI also provides a complete set of floating fish feed production line construction solutions and complete equipment processing.
Based on the long experience as a starting point, careful looking at the future, combined with the study and design of new technologies to improve floating fish feed production processes: this is the mix that makes RICHI MACHINERY a pioneer in the field of floating fish feed mill plants construction.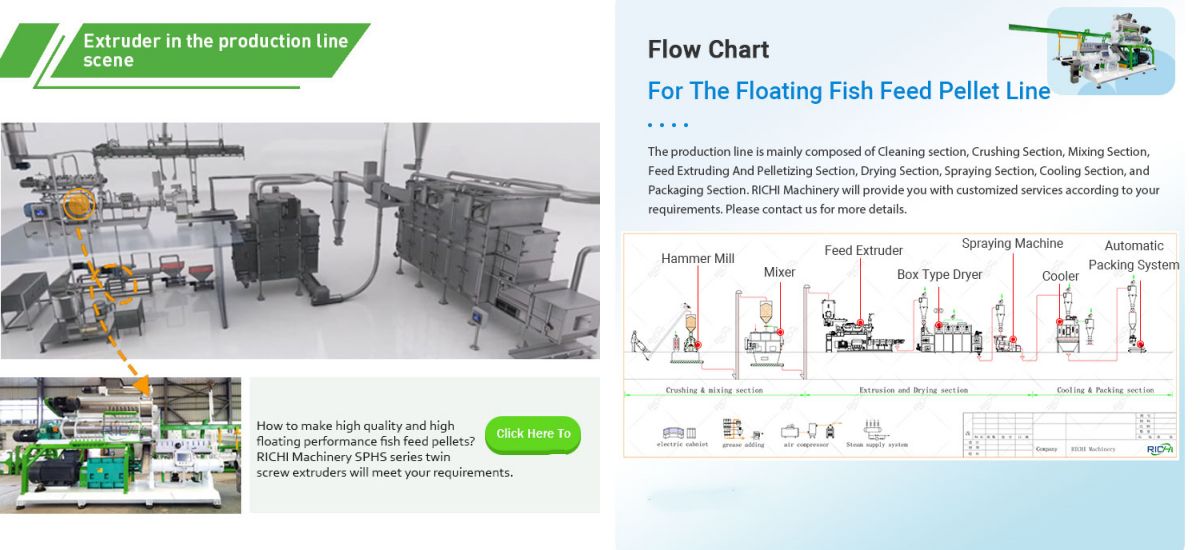 Raw material such as soybean meal, corn, fish meal, and other grain or powder is sieved to remove any impurity and metals.
Optional step for coarse material. Pre-grinding will lower the energy needed for ultra-fine grinding.
③ 1st-dosing & Weighing & Mixing System
The material will be dosed based on the formula. In the floating fish feed plant, usually, the material will be processed by batch.
Post-grinding is the final size reduction in the system. It is common to use a pulverizer for producing ultra-fine powder.

⑤ 2nd-dosing & Weighing Mixing System
In this step, trace ingredients such as vitamins and minerals will be added and mixed.
The floating fish feed pellet making machine will used in this section. Extruding system starts with pre-conditioning and hydrating by adding steam and water or other liquid. The material will undergo high pressure, high temperature, and shearing in the barrel, and then be formed by mold at the outlet.
Drying system in extrusion technology is a very necessary section, wet pellets will enter the dryer and come out as dry pellets. No matter what type of fish feed dryer you have, good moisture control is the most important feature that a dryer needs.

⑧ Coating System (Optional)
It is common to coat the extruded fish feed pellets with oil or enzymes to increase the nutrient value of the pellets. Depending on the liquid coating level, a drum coater or vacuum coater can be used.
Cooling section utilizes ambient air to cool down the hot pellet from the aqua feed dryer machine. Thorough cooling is needed to prevent condensation inside the packaging.
Packing section gives protection to the extruded pellets and also give easiness to handle and transport to customer's hand. We can provide all kinds of metering and packaging equipment.

Whether it is floating fish feed production line or sinking fish feed production line, or pet feed production line, livestock and poultry feed production line, if you need to process extruded feed or pellet feed, please contact us to customize your plan. (You can follow RICHI on YouTube)
Supporting equipment for floating fish feed pellet making machine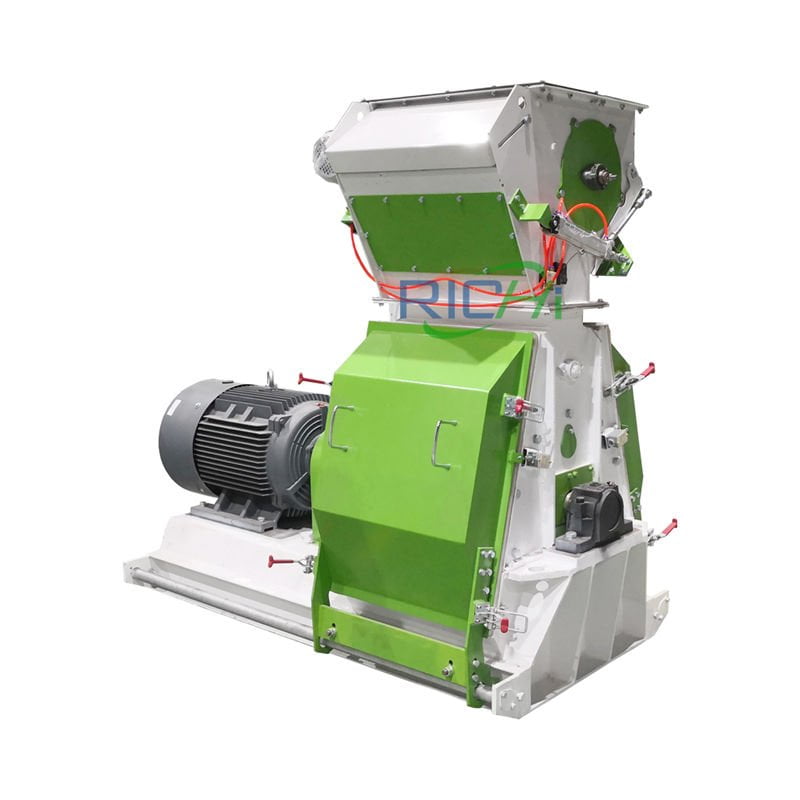 Fish Feed Grinder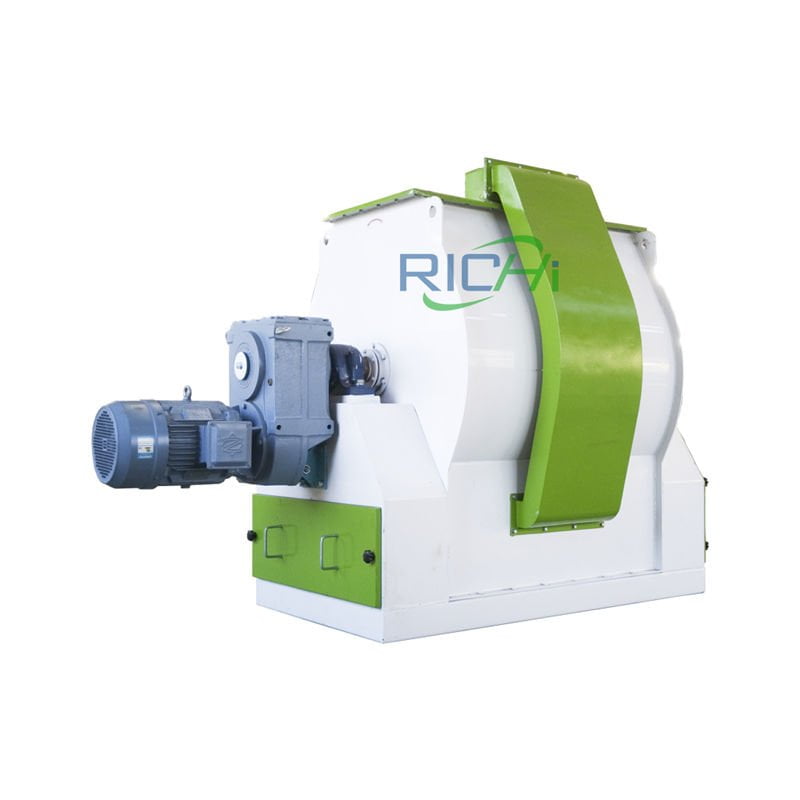 Fish Feed Mixer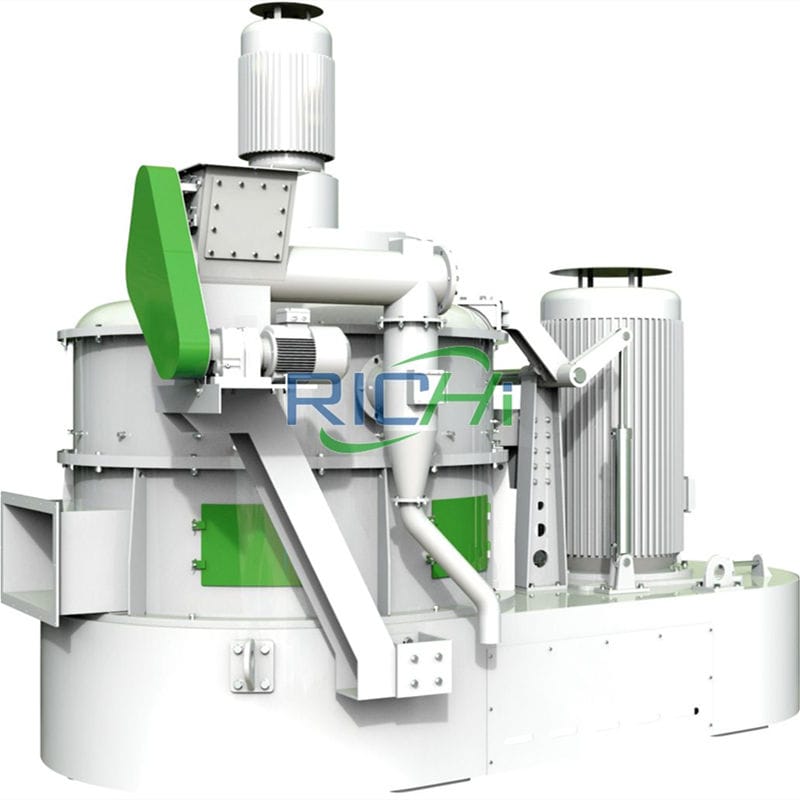 Ultrafine Grinder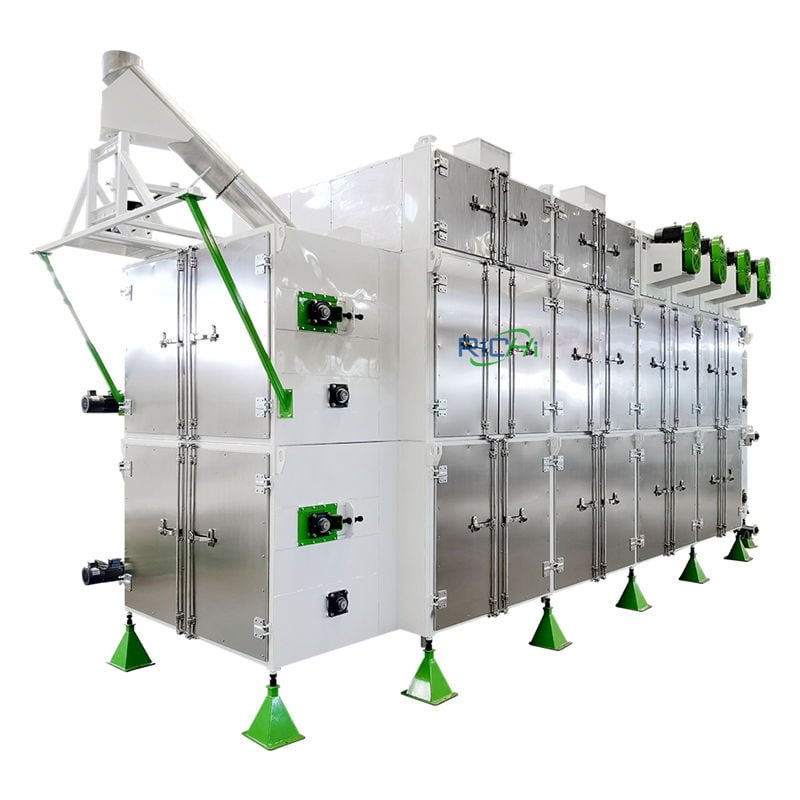 Fish Feed Dryer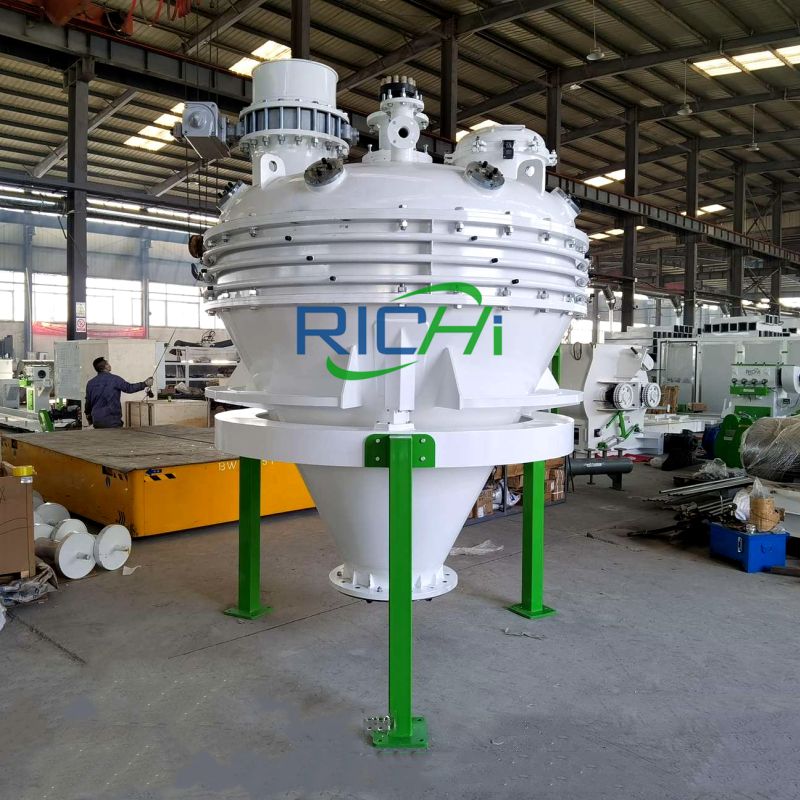 coating machine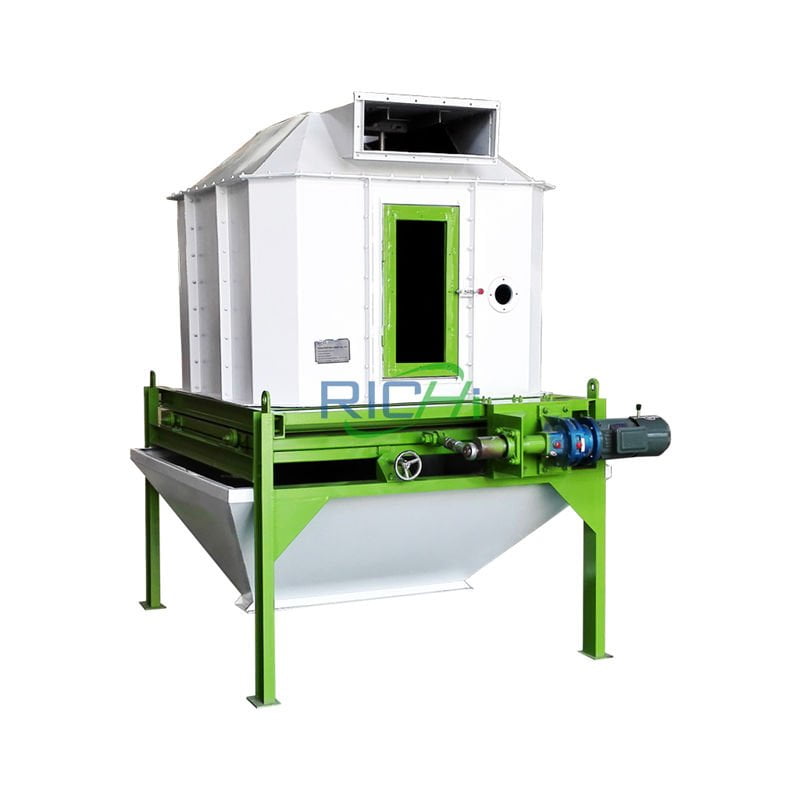 Pellet Cooler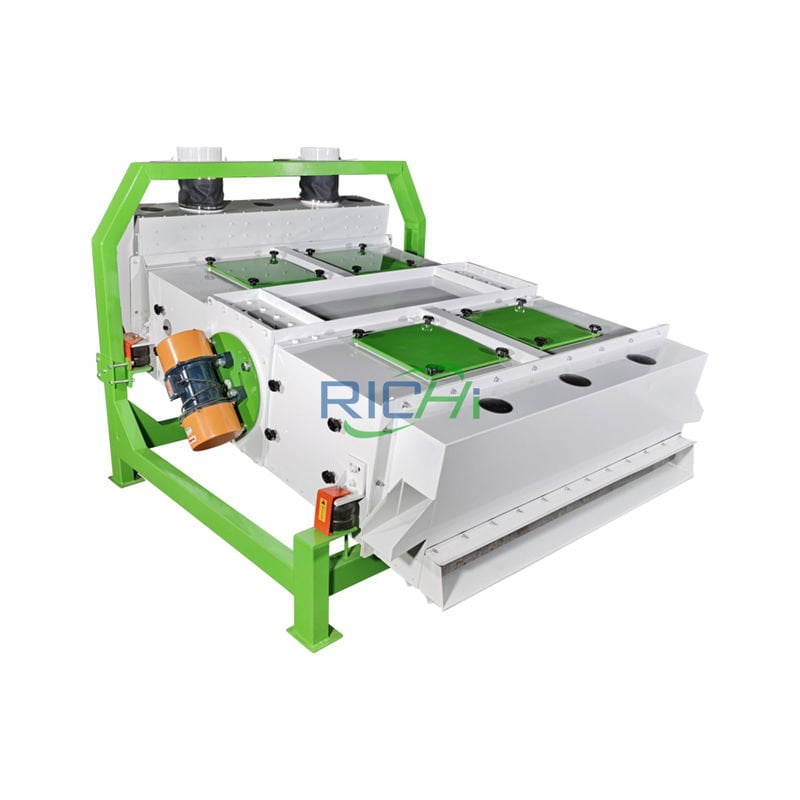 Rotary Screener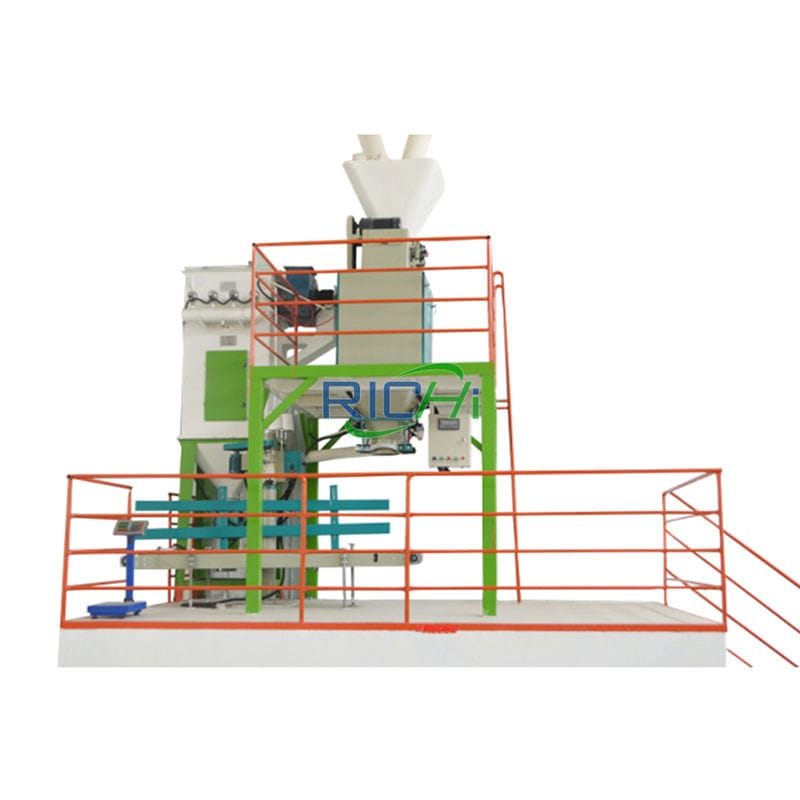 Packaging Machine
Related floating feed making machine solutions
RICHI Service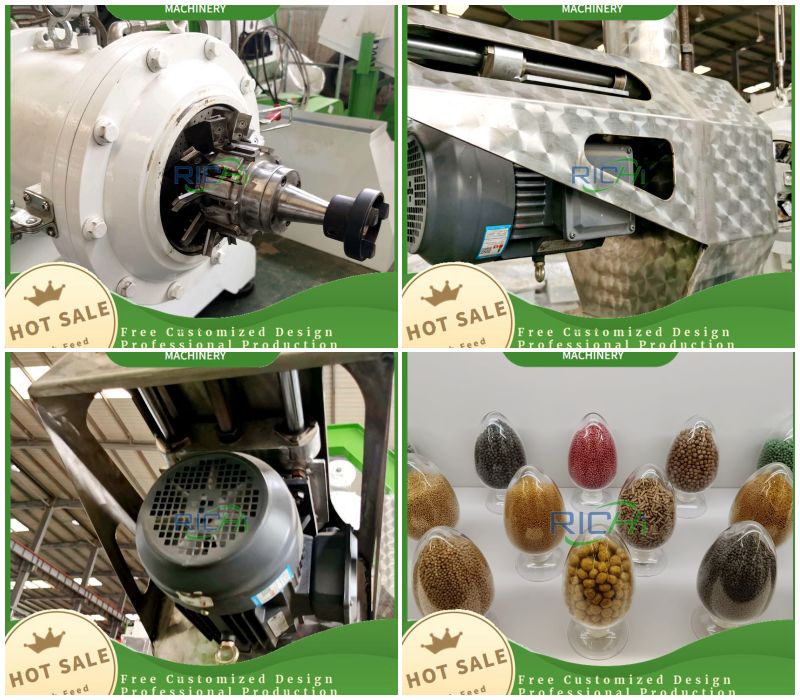 Pre-shipment testing
We guarantee the quality of our floating fish feed pellet making machines and aqua feed mill solutions. RICH quality inspection team endlessly check and inspect all raw materials, manufacturing, and final inspection process to ensure our machine quality.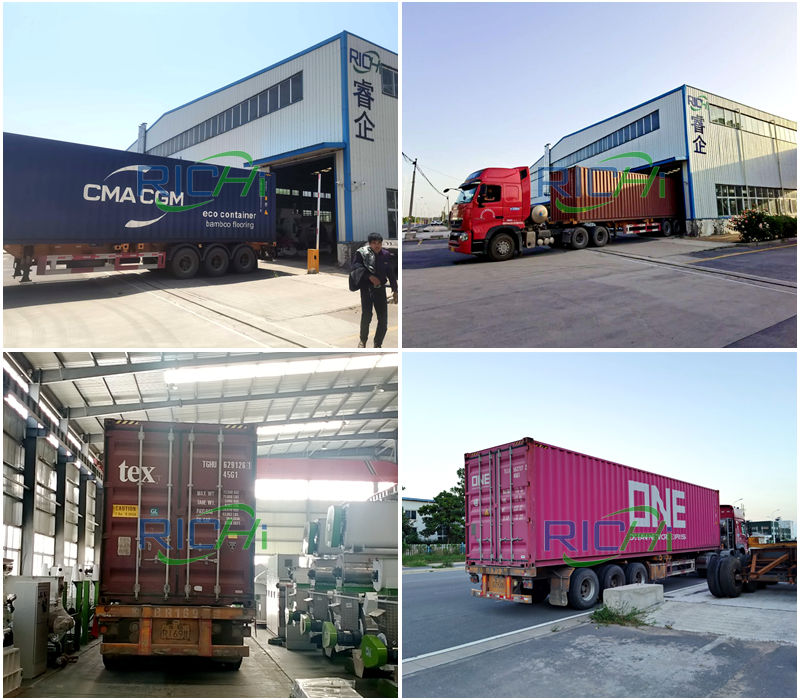 Careful packing & transport
RICH aqua feed machines are carefully packed for transportation via land, sea, and air. Our machine is fixed on custom size heavy-duty wooden pallets, with additional beams and columns for reinforcement. All packaging measures are taken to ensure that machines arrived on the customer site unharmed.
Simple and easy operation
RICHI feed machines are designed with operator friendly control system, either by manual push button or control panel. To let RICHI customer has a complete understanding of the machine process and maintenance, we conduct detailed online or in-house training and also provide operation a manual which includes all key points and precautions of the machine.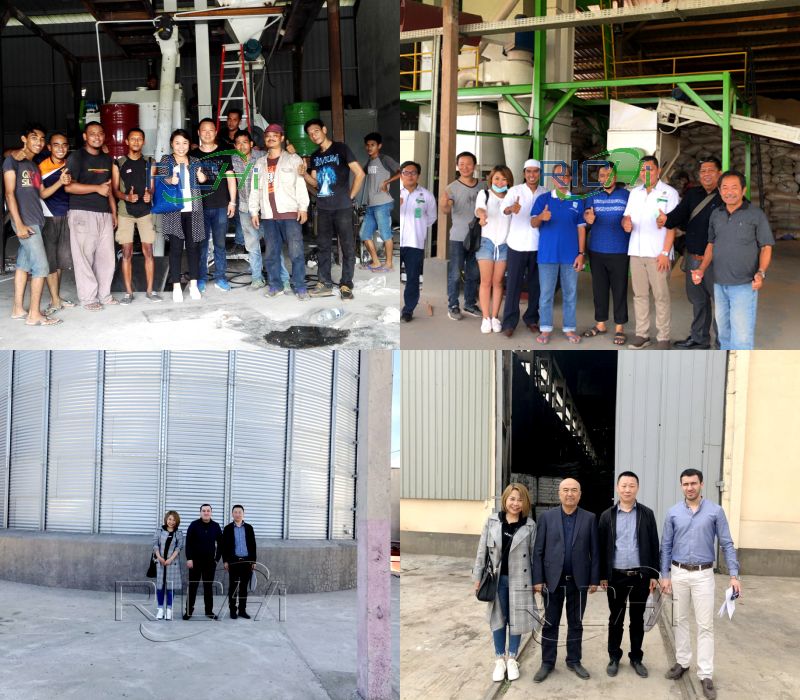 after-sales service
RICHI after-sales services to solve problems that may occur during machine operation. RICHI service team will guide you to check the cause of the problem and eliminate the problem with less downtime. We utilize the most time-efficient and cost-effective solution for you to solve your floating fish feed pellet making machine problems.
LEAVE YOUR NEEDS
Keeping in touch with us is an effective way to solve all your problems. If you have any needs or questions, please leave your contact information, then RICHI technical consultants will send design, quotation, videos to your mailbox. You can also contact us directly via WhatsApp: +86 13838389622